Hospital faces punishment for harassing sick patients over bills
Published time: 16 Sep, 2012 23:32
Edited time: 17 Sep, 2012 03:32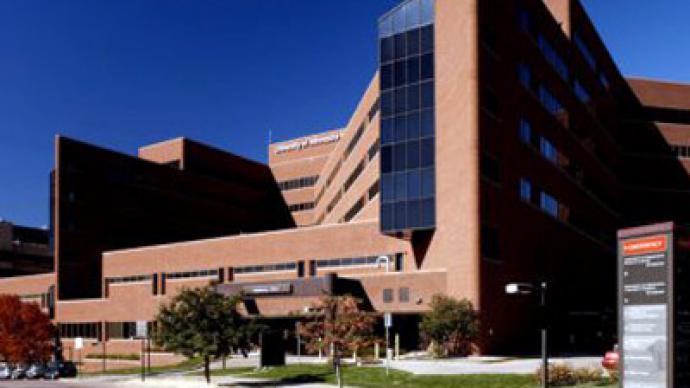 Bedridden patients at a Minnesota hospital have repeatedly woken up to the sight of a debt collector at the foot of their beds. The hospital is now facing penalties for violating patient protection laws by intimidating the ill over unpaid bills.
­The University of Minnesota Medical Center, a Fairview Health Services hospital, could be terminated from Medicare and Medicaid – the greatest penalty the federal government can impose, the Star Tribune reports.
According to federal inspection documents obtained by the Tribune, the hospital subjected patients and their relatives to "abuse and harassment" while making attempts to collect medical bill payments in emergency rooms and labor and delivery areas. While one patient was suffering a potential heart attack, a hospital employee told her she owed $672 for the day, rather than helping her.
"The patient stated she was 'angry, scared and appalled,'" stated the documents, which were put together under the supervision of attorney general Lori Swanson.
In some cases, the hospital's workers had access to health information while threatening patients to pay their bills, thereby violating federal privacy laws.
In seven of the 21 cases reviewed by federal investigators, the hospital "failed to protect and promote each patient's rights to be free from all forms of harassment when the hospital utilized aggressive payment collections tactics at the point of patient care."
The hospital worked together with the debt collection firm Accretive Health to intimidate patients, who believed they would be denied medical care if they did not pay their previous debts.
The hospital was also found to have denied treatment to poor patients unable to pay the bills, breaching federal laws that state hospitals must accept anyone and everyone.
Swanson's reports sparked outrage among some politicians. Sen. Al Franken led an effort to push for new federal regulations restricting medical debt collection. The American Hospital Association was also required to update its guidelines for billing and debt collection. The hospital's CEO, Mark Eustis, resigned over the scandal.
As Fairview now faces losing its Medicare and Medicaid programs, the hospital is working hard to change its reputation.
"We are very concerned about the issues that came up and are working collaboratively with CMS (Centers for Medicare and Medicaid Services) to get them resolved," said Carolyn Wilson, the hospital's president, in a statement for the Tribune. Fairview claims it now responds to complaints from patients and employees.
"We continue to learn from this experience," she said.
Meanwhile, the debt collection agency is facing its own punishments. For years, Accretive has been profiting from collecting hospital debts from sick patients. In 2011, it reported $29.2 million in profit, up 130 percent from the previous year, according to The New York Times. But as a result of its involvement in the harassment and intimidation of patients, the attorney general banned the firm from doing business in Minnesota for at least two years. In July, Swanson also reached an agreement with Accretive for the firm to pay $2.5 million into a patient restitution fund.
Although the Tribune expects the hospital to face lesser sanctions, it could be booted from Medicare and Medicaid anyway, thereby losing government funding for its older patients.