Homeless man who returned diamond ring reunites with family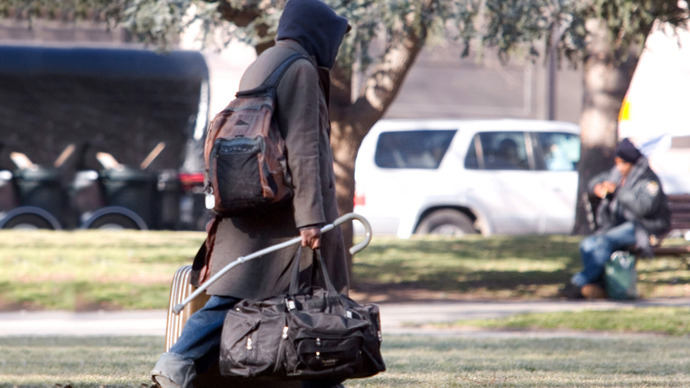 A homeless man who returned a $4,000 diamond ring to a woman who mistakenly dropped it in his change cup has been rewarded: the 55-year-old has received more than $188,000 in donations and been reunited with his family, who saw him on the news.
Just two months ago, Billy Ray Harris was enduring the cold while begging for change on the streets of Kansas City, Mo., thankful for every penny that would help him survive the winter. But his kindness and good deeds have caused his life to take a turn in a better direction.
Harris' plastic change cup was usually filled with pennies, nickels, dimes and quarters. But on Feb. 8, the homeless man discovered an enormous 1-carat diamond ring in his cup, about an hour after a young woman dumped in the change from her unzipped wallet.
Curious about the ring's value, Harris took it to a jewelry store and was offered $4,000 cash in exchange for the jewel. But instead of selling it and getting himself off the streets, the 55-year-old man returned to his usual spot the next day and waited to see if the young woman would come back for it. She did – and Harris didn't hesitate to return it.
The engagement ring's owner, Sarah Darling, never imagined that she would get back her expensive diamond. She recalled removing all of her rings and putting them in her coin purse because they were uncomfortable, but was struck with panic and sadness when she realized where she might have dropped it.
"I was so incredibly upset because, more than just the value of the ring, it had sentimental value," she told KCTV in February.
After Harris returned the valuable diamond, she and her fiancé were so grateful that they went out of their way to try to help the homeless man build a life. She and her fiancé, Bill Krejci, started an online fund for Harris, hoping to raise the money that the ring is worth. But Harris will end up with much more than he ever expected: in just over a month, more than 8,000 people have donated to the campaign, raising more than $188,000.
The fundraiser will continue for about 50 more days, leaving room for Harris to receive a lot more money from kindhearted donors.
"Thank you for your generosity, hugs and kind words," Krejci wrote on the campaign's web page after explaining that Harris has now acquired a financial and legal counsel that will help him secure his funds.
And financial security is not the only way the homeless man benefited from his good deed. As a result of the media publicity surrounding the story, his long-lost sister was able to track him down and reunite Harris with his family members in Texas, who he hasn't seen in 16 years. Relatives, including his siblings and their children, are planning a family reunion for this summer.
Harris is no longer homeless and now lives in his own apartment. With the friendship of Darling and Krejci, his family members by his side, and enough money to sustain a comfortable life, Harris' situation has taken a drastic turn in the other direction.
Appearing on NBC's "Today" show, he showed up wearing a yellow, button-down shirt and khaki pants – a sharp contrast from the winter clothes and sweats he wore to keep warm on the streets of Kansas City.
"This was a total shock. Got it all right here now," he said on the show, while sitting beside members of his family and the young American couple that helped him achieve his dreams.
You can share this story on social media: