Facing overcrowded prisons, US wants to cut drug sentences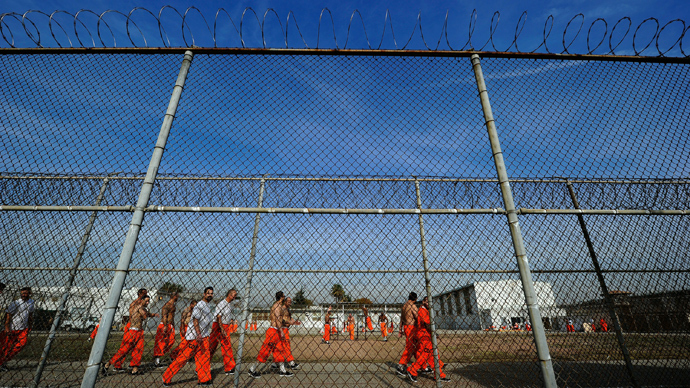 US prisons are operating at 40 percent above capacity, with half of all inmates locked up for drug-related crimes. Attorney General Eric Holder has proposed changes to the criminal justice system that would reduce sentences for non-violent crimes.
In an announcement scheduled for delivery on Monday, Holder outlined a plan to free up prisons and keep non-violent drug offenders from ending up in jail cells. Under a major policy shift, federal prosecutors will no longer push for "mandatory minimum" sentences for low-level drug offenders, and will instead send more people to drug treatment and community service programs. Additionally, Holder wants prisons to release elderly, non-violent offenders.
"Too many Americans go to too many prisons for far too long, and for no good law enforcement reason," Holder said in his speech, which was released in advance of his 1 p.m. ET delivery at the American Bar Association in San Francisco. "While the aggressive enforcement of federal criminal statutes remains necessary, we cannot simply prosecute or incarcerate our way to becoming a safer nation."
In his speech, Holder reflected a view long held by civil rights groups that have advocated for lesser sentences for non-violent crimes, claiming that the long prison terms have prevented low-income and minority communities from advancing. Mirroring that view, Holder said that "a vicious cycle of poverty, criminality and incarceration traps too many Americans and weakens too many communities" and that "many aspects of our criminal justice system may actually exacerbate this problem, rather than alleviate it."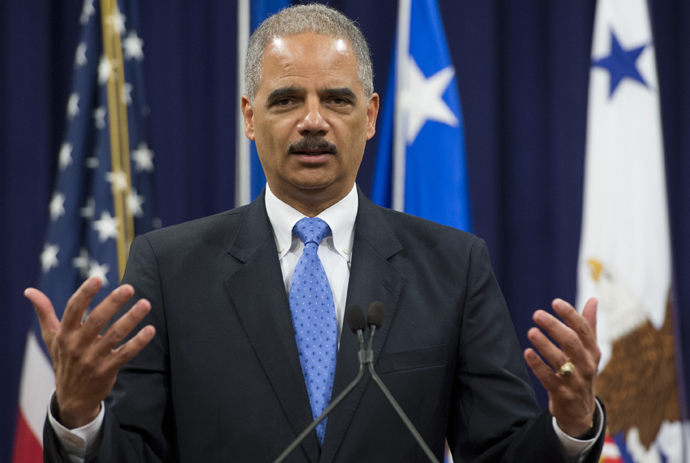 US federal prisons are significantly overcrowded, holding 40 percent more inmates than they were designed to incarcerate. More than 219,000 people are currently locked up in federal prisons, with nearly half of them serving time for drug-related offenses. Another 11 percent are being held for immigration offenses, and a large number are also being held for substance use disorders, the Associated Press reports. Over the past 30 years, the US has experienced a 500 percent increase in the number of inmates held in federal custody.
Despite the numbers, federal judges have often been forced to apply mandatory minimum sentences against their own will. Sens. Dick Durbin (D-Ill.), Patrick Leahy (D-Vt.), Mike Lee (R-Utah), and Rand Paul (R-Ky.) have introduced legislation that would allow judges to exercise greater discretion in applying these minimums in cases involving non-violent drug offenders. The legislation, called the Smarter Sentencing Act or the Durban-Lee-Leahy bill, was introduced earlier this month.
Holder plans to cite the lawmakers' bipartisan proposals in his speech.
"By reserving the most severe penalties for serious, high-level or violent drug traffickers, we can better promote public safety, deterrence and rehabilitation, while making our expenditures smarter and more productive," Holders says in the speech. A study published by the American Journal of Public Health in June found that the state of California saved $2,300 per offender over a 30-month conviction period by sending the convict to treatment rather than a prison cell. The mandatory sentences were adopted during the "war on drugs" in the 1980s, but the US simply lacks the funds and the capacity to imprison low-level drug offenders.
"Mandatory minimum sentences for non-violent drug offenses have played a huge role in the explosion of the U.S. prison population," Durbin said in a news release. "Once seen as a strong deterrent, these mandatory sentences have too often been unfair, fiscally irresponsible and a threat to public safety. Given tight budgets and overcrowded prison cells, judges should be given the authority to conduct an individualized review in sentencing certain drug offenders and not be bound to outdated laws that have proven not to work and cost taxpayers billions."
You can share this story on social media: