Former NSA director: Fair to say US militarized the internet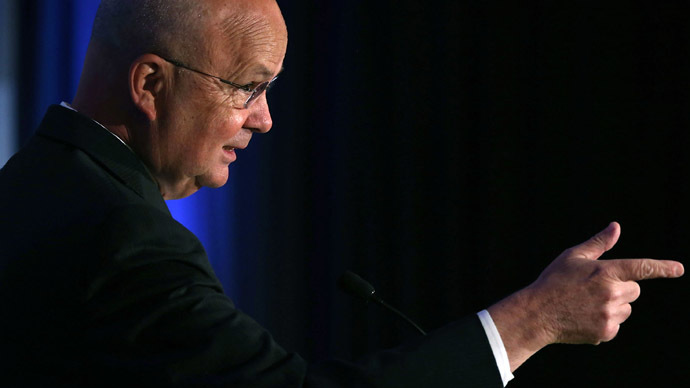 Gmail is the preferred online-email service of "terrorists" and the US "could be fairly charged with the militarization of the World Wide Web," former NSA and CIA director Michael Hayden said Sunday.
Speaking at a forum on "the tension between security and liberty" at a church in downtown Washington, Hayden defended the legal rationale -- Section 702 of the Foreign Surveillance Intelligence Act (FISA) -- for the PRISM program that allows the National Security Agency access into the servers of major tech companies like Google.

Of Google, Hayden said, "Gmail is the preferred Internet service provider of terrorists worldwide," though Gmail is an online service. Hayden added, "I don't think you're going to see that in a Google commercial, but it's free, it's ubiquitous, so of course it is."

In defending mass surveillance programs exposed by former NSA contractor Edward Snowden, Hayden said the US "could be fairly charged with the militarization of the World Wide Web."

Documents released by Snowden to The Washington Post showed the extent of the government's elite hacking unit, Tailored Access Operations (TAO), an aspect of the NSA that collects intelligence by hacking into foreign targets' computers, confiscating data and monitoring communique. In addition, the documents proved the US government routinely hacks into foreign computers around the world, especially targets in China.

Hayden dismissed a question about whether the US is setting a damaging precedent with its aggressive spying operation by pointing to the internet's US origins.

"We built it here, and it was quintessentially American," he said, adding that much of web traffic goes through American servers and that the government routinely monitors that communication, as verified by the Snowden revelations.

Should the internet last for centuries, Hayden said it may be the United States' legacy, "the way the Romans are remembered for their roads."   

Hayden, former head of the world's largest intelligence and spying outfit, also expressed disgust for online anonymity.

"The problem I have with the internet is that it's anonymous," he said, though adding the issue of anonymity was contentious during the Arab Spring movement when the US helped protect the identities of some activists.

"We have a very difficult time with this," Hayden said. "Is our vision of the World Wide Web the global digital commons -- at this point you should see butterflies flying here and soft background meadow-like music -- or a global free fire zone?"

You can share this story on social media: