Serious harm to the country: 77 percent of Americans strongly disapprove of Congress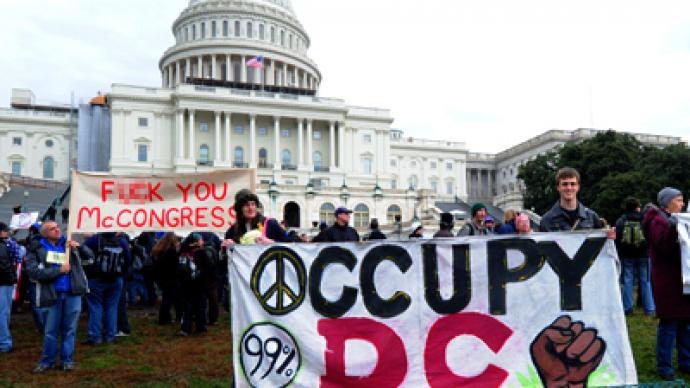 Nearly 80 percent of Americans say they believe Washington is causing "serious harm to the country," shedding further light on the low approval ratings of the most recent US Congress and the widespread pessimism regarding the country's future.
The overwhelming majority of Democrats, Republicans and Independents all believe that Washington politicians are damaging the United States, according to a Dec. 14-17 USA Today/Gallup poll, which was conducted while the 112th Congress was attempting to avert the looming fiscal cliff.While 77 percent of Americans admitted having no faith in their elected representatives to do good, only 19 percent believed Washington is doing no harm. Republicans had the most negative opinion, with 87 percent of GOP respondents indicating that Washington is harming the country, while only 68 Democrats and 79 Independents believed the same.The poll reinforced the consistently low approval ratings of the 112th Congress, which were frequently below 20 percent. A separate poll conducted during the same time period found that Congress' approval rating remained at 18 percent during the fiscal cliff debate, which is also where it stood a month prior, in mid-November."The finding that most Americans think politics are hurting the country fits with a number of additional measures showing that Americans hold the federal government in general and Congress in particular – the main instruments of how American politics work – in low-regard," Gallup's Frank Newport says in a press release that accompanies the report."The 19 percent of Americans who do not feel negatively about the way politics are being handled is quite close to Congress' current 18 percent job approval rating," he adds. "Confidence in Congress as an institution – the percentage with a great deal or quite a lot of confidence in it – is at 13 percent, and 10 percent and 14 percent of Americans rate the honesty and ethics of members of Congress and senators, respectively, as high or very high."The 113th Congress may have a difficult time changing the public's perception: only 52 percent of Americans believe that politics will improve over the next decade, while 45 percent predict they will feel equally cynical of their elected representatives' abilities. But Democrats are overwhelmingly more optimistic than Republicans, with 63 percent believing in a better future, while only 44 percent of the GOP foreseeing an improvement.But with another Republican House majority and Democratic Senate majority, it may still be difficult for new legislation to pass Congress. "My sense is that things are not going to be that different because the fundamental divisions that existed in the previous Congress are still there," Alan Abramowitz, a political science professor at Emory University, tells CNN."On the day people are sworn in they are entitled to dream," says Larry Sabato, director of the University of Virginia's Center for Politics. "The idea that they are going to bridge the unbridgeable gap between the two parties is indeed a dream."On Tuesday, the Public Policy Polling (PPP) released a survey of their own that found that 9 percent of their respondents held a favorable opinion of Congress. In that survey, 85 percent said they considered Congress unfavorably."We all know Congress is unpopular," PPP President Dean Debnam says in a statement. "But the fact that voters like it even less than cockroaches, lice and Genghis Kahn real shows how far its esteem has fallen with the American public over the last few weeks."
You can share this story on social media: