'Take me shooting, Dad!': US gun makers target pre-teens as clients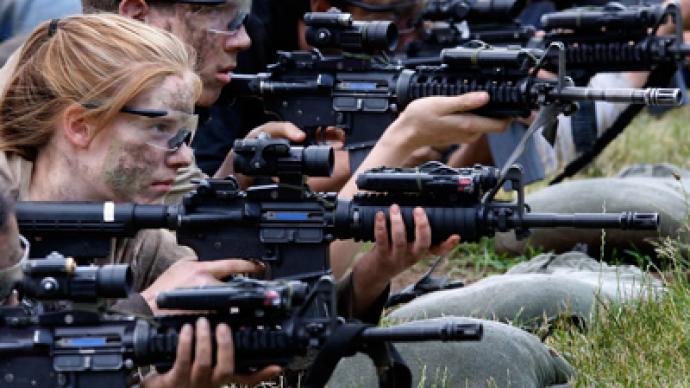 US gun manufacturers are aggressively courting underage customers in a bid to revitalize the ageing customer base. The industry spends millions on setting up competitions, publishing magazines and releasing games aimed at children as young as ten.
­Rather than marketing guns directly to an audience that is legally too young to buy them, major arms producers have created a network of foundations and magazines that nudge children towards shooting as a hobby, stressing that guns teach "citizenship", "responsibility" and "life skills".
"Who knows? Maybe you'll find a Bushmaster AR-15 under your tree some frosty Christmas morning!" reads one advert in industry-funded Junior Shooters magazine, which encourages children to ask their parents to purchase them weapons as gifts.
Meanwhile, the content of Junior Shooters is relentlessly upbeat, featuring a good mix of boys dressed as cowboys and wholesome All-American girls always smiling at the camera as they brandish guns wider than their arm span.
The New York Times has obtained a series of manufacturer-funded studies, consisting of thousands of responses from children asked how they feel about firearms.
The market research shows that manufacturers understand that shooting needs to be made less threatening, by starting children off on archery rather than with guns and never using human silhouettes for target practice.
It also advises how to approach parents (they need to be prodded with special events like "Take me Shooting!" – a family day out) and schools, who may be reluctant to see their children join rifle clubs en masse.
"When approaching school systems, it is important to frame the shooting sports only as a mechanism to teach other life skills, rather than an end to itself," says one report.
"There's nothing alarmist or sinister about it. It's realistic," said Steve Sanetti, the president of the National Shooting Sports Foundation, a manufacturer-funded non-profit with a budget of $26 million dollars.
One popular way to attract children has traditionally been through competitions.
As the popularity of PC shooters such as Call of Duty has risen, children do not want to shoot "uncool" single-shot hunting rifles. Instead, competitions featuring the semiautomatic AR-15 (a close relative of the M16 used by the US military which can shoot up to 800 rounds per minute and which Obama wants to restrict access to) have sprung up around the country.
"They're a tool, not any different than a car or a baseball bat. It's no different than a junior shooting a .22 or a shotgun. The difference is in the perception of the viewer," said Junior Shooters editor, Andy Fink, when questioned about the popularity of semiautomatics among children.
Foundations have also developed several apps, such as Point of Impact, recommended for children aged 9 and up on the iTunes store, which combine the fun of arcade shooters with useful information about taking target practice offline.
To encourage more people to join in, organizations such as the Youth Shooting Stars Alliance, give out dozens of "grants" consisting of entire boxes of rifles and ammunition, paid for by the manufacturers. The makers hope the initial gift of a free gun for a child will guarantee them a life-long customer.
In fact, the National Rifle Association, which is funded by member subscriptions, but enjoys a close relationship with gun makers, spends over $20 million a year on buying guns for children.
The drive to recruit children is hardly surprising.
Hunting, the backbone of civilian arms sales, is a shrinking market. In the past twenty years the number of hunters has shrunk by 20 percent, with less than six percent of the US population saying they regularly engage in the activity, according to a National Survey conducted in 2011. Meanwhile, the average age of hunters has gone up – with more than half of them older than 45.
Whether it is safe is another question.
Dr. Jess P. Shatkin, the director of undergraduate studies in child and adolescent mental health at New York University says children "are engineered to take risks" – and that's just the mentally stable ones.
He also doesn't buy the responsibility-through-gun-ownership mantra of the myriad associations
"There are lots of ways to teach responsibility to a kid. You don't need a gun to do it," he told the New York Times.
Stephan Carlson, a University of Minnesota environmental science professor, who has extensively endorsed hunting in his research is alarmed by the shift of focus, and has one simple question.
"What are we preparing kids for?"