Gun sales shoot up during Black Friday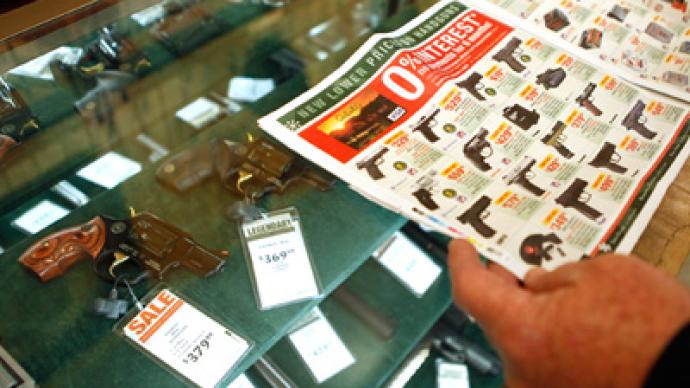 If you're expecting Santa Claus to climb down your chimney this Christmas, you might want to make sure your chute can accommodate a fat man with a shotgun. Move over, flatscreen TVs — shoppers came out in droves this Black Friday for guns and ammo!
Statistics from the start of the shopping season reveal that consumers went wild for deals on guns this Black Friday, the bargain-hunting bonanza the day after Thanksgiving that is notorious for marathon shopping sprees and outrageous discounts. Sure, big deals on DVDs and televisions had shoppers camping out for clearance from coast-to-coast, but gun retailers across the country saw a surge in shopping this year as well.According to numbers courtesy of the Federal Bureau of Investigation, this year's Black Friday saw the most background check requests for gun buyers ever in a one-day span: 129,166.The numbers shatter the previous record — 97,848 — set on the same shopping day three years earlier. It should be noted, however, that these statistics do not count for every gun purchase, but rather every background check. Some customers can purchase up to several firearms at one time, making sure that the stockings hung by the chimney with care this Christmas can be stuffed with some seriously thoughtful weaponry."There's been a whole lot of hysteria raised by the NRA about the need to stockpile guns because Obama's going to take your guns away," Caroline Brewer, a spokeswoman for the Brady Center to Prevent Gun Violence, tells ABC News. "It may mean more gun owners are buying more guns."To some, it isn't that Obama's ban on firearms is cause stockpiles to surge in size — it's that the commander-in-chief's failure to perform his job has others scared of a country-wide collapse."We've got a spectator president who always seems to be waiting for someone else to take action, perhaps because he wants someone else to blame for another plan that doesn't work. Why is it any surprise that American citizens, including many for the first time, are buying firearms and ammunition?" asks Alan Gottlieb of the Citizens Committee for the Right to Keep and Bear Arms.It doesn't hurt either that a lot of stores happened to offer some serious shopping deals this year. The New Zealand Herald reports that the website of one shop in South Carolina went down during the shopping blitz, and across the entire state the sales tax on firearms was suspended for the day. In preparation, Charlie Grigg of ACE Hardware in Kennewick, Washington tells an NBC affiliate that the store had a second phone line opened up just to call in background checks. His store saw an increase in sales of 35 percent from the year before."Normally it's electronics and people are out there looking for that screaming hot deal, and we were discussing that maybe women were out doing that shopping and their husbands were out buying their own Christmas gifts," adds Griggs. Separately, the director of the Professional Gun Retailers Association tells the New York Daily News that "The laws have changed, and it's a lot easier to give firearms as Christmas presents.""It's possible that gun companies are just catching on to creating a Black Friday frenzy for themselves," Dennis Henigan of the Brady Center adds to Raw Story. MC Sports in Springfield, Missouri opened their doors this year at 5 a.m. with hot deals from wall-to-wall. "It was the biggest rush we ever had," store manager Tom Ritzer tells ABC News. He noted, however but noted that customers were stuck waiting upwards of two hours after finding their purchase because the National Instant Criminal Background Check System didn't open until 7 a.m."Some of the people at the gate sent their kid running to the gun counter to get in line," adds Ritzer.So was it big bargains this Black Friday or just preparations going into play for an apocalyptic end of America? Why can't it be both?!"For many American citizens, the economy remains unstable, and the outlook for tomorrow is very uncertain," adds Gottlieb. "We've seen public safety budgets hacked to shreds by state and local governments that have spent themselves into near bankruptcy. Our streets, parks and state capitol buildings have been occupied by anarchists. Europe appears on the verge of financial collapse. Congress is unable to resolve our budget crisis.""Increased sales may represent is a national gear-up toward class warfare," adds an editorial published on the website for Top Secret Writers.To some, they feel like they have to simply take law enforcement into their own hands. "They read in the headlines stories about prisoners having furloughs and law-enforcement being laid off," National Rifle Association spokesman Andrew Arulananbam tells ABC. "They realize it's going to be up to them to protect themselves and their families."Some advocates were a little more blunt with their urging to stock up. The USA Ammo company has been offering up its customers an ad that shows President Obama beneath the wording "Gun control imminent — one election away." The president is only one of the faces shown in the advert — he's alongside Mao Zedong, Joseph Stalin, Adolf Hitler, Pol Pot and Idi Amin.
You can share this story on social media: