Rage Against the Machine guitarist scares Rahm Emanuel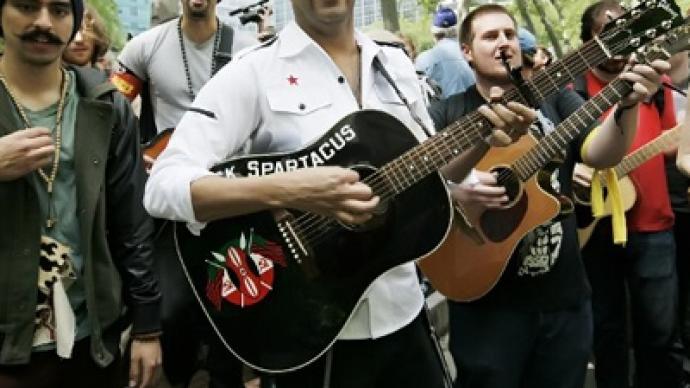 Guitarist Tom Morello has found another new issue to rally against, and this time the rocker might rage all the way to city hall.
Morello, the axe-slinger known for his role in bands such as Audioslave, Street Sweeper Social Club and Rage Against the Machine, has officially gone on the record to oppose the policies of Chicago Mayor Rahm Emanuel. A former chief of staff under the administration of US President Barack Obama, Emanuel parted ways with Washington last year so that he could be sworn in as mayor of the Windy City. Now, however, he has put his foot down on a planned protest that was expected to bring Morello out onto the streets of Chicago later this month to support the rights of nurses.The guitarist says he has a good mind to make Emanuel think twice before telling protesters to take a hike."We won't be silenced and we won't be stopped," says Morello. An active supporter of Occupy Wall Street since the movement's beginning last year, Morello has recently joined forces with nurses in Chicago who had earlier been issued a permit from city officials to hold a demonstration during this month's NATO Summit. National Nurses United had planned on protesting — with a permit — in Chicago's Daley Plaza for months. After Morello made it public that he would be performing, however, city officials scrambled to revoke the license.Michael Simon, an assistant commissioner of the Department of Transportation, explains that the change in heart is directly the result of changes to the protest, "including a performance by a nationally known musician and a significantly increased number of expected attendees."Morello isn't the only one miffed by the news, either."If the nurses are a threat to Rahm Emanuel, then heaven help the US" RoseAnn DeMoro, executive director of National Nurses United, tells Rolling Stone. "They're trying to marginalize the effect of the nurses."For the guitarist, though, this could just be the start of something bigger."Chicago is my hometown and the mayor is making me feel mighty unwelcome," Morello explains to Rolling Stone. "I don't care what they say or do, I'm coming to rock out and speak my mind.""If Rahm Emanuel is so afraid of my popularity in Chicago maybe I should run against him in the next election. See you in the streets."
You can share this story on social media: