Guantanamo inmates on hunger strike demand new doctors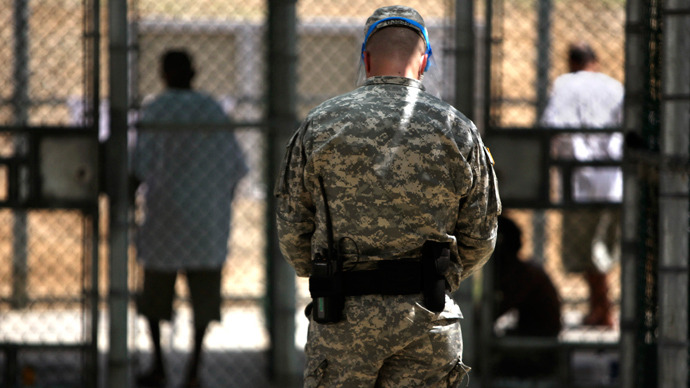 Detainees held at the Guantanamo Bay detention facility have published a chilling plea in hopes of having the military appoint a new team of physicians to oversee their care during a hunger strike that currently involves eight out of every ten prisoners.
A letter signed by the names of nine Gitmo detainees and the attorneys for several others was released on Friday, imploring the United States to replace the doctors at the facility with ones impartial to the wishes of the US government.
The letter, dated May 30 and first obtained by the Guardian's Spencer Ackerman, asks the military doctors currently assigned to Gitmo to relinquish their role more than 100 days after detainees at the facility first began refusing meals. As many as 130 of the 166 prisoners began participating in the hunger strike since February, and the scandal has attracted the attention of the government's top officials, including President Barack Obama.
"I do not wish to die, but I am prepared to run the risk that I may end up doing so, because I am protesting the fact that I have been locked up for more than a decade, without a trial, subjected to inhuman and degrading treatment and denied access to justice. I have no other way to get my message across. You know the authorities have taken everything from me," the letter begins.
"For this reason, I am respectfully requesting that independent medical professionals be allowed into Guantanamo to treat me, and that they be given full access to my medical records, in order to determine the best treatment for me."
Nine detainees at Gitmo personally signed the letter, and attorneys representing four others signed on their behalf. Additionally, six lawyers autographed the statement as concerned Guantanamo defense counsels, including David Remes of Appeal for Justice.

"I have compassion for every single man at Guantanamo," Remes told RT recently on the one-hundredth day of the hunger strike. "We are in a situation where the detainees have exercised the only power they have after all other avenues have been exhausted, and that has been to engage in a hunger strike. The logic of a hunger strike is death."
But even with the lion's share of Gitmo detainees refusing to eat, death has not come yet to the more than 100 men engaged on a hunger strike. In order to keep the inmates alive, the government has instructed physicians at the prison to force-feed the inmates, much to the chagrin of the detainee's wishes.
Last month, detainee Samir Naji al Hasan Moqbel gave the New York Times a firsthand account of the horrors endured inside Gitmo's force-feeding rooms. He said eight military police officers in riot gear burst into his cell, then forced an IV into his hand and a catheter into his penis. It was "painful, degrading and unnecessary," he wrote, and he wasn't allowed to pray.
"I will never forget the first time they passed the feeding tube up my nose. I can't describe how painful it is to be force-fed this way. As it was thrust in, it made me feel like throwing up. I wanted to vomit, but I couldn't. There was agony in my chest, throat and stomach. I had never experienced such pain before. I would not wish this cruel punishment upon anyone," he said.
This week, those sentiments are echoed in an open letter addressed to the military doctors assigned to the detainees.
"For those of us being fore-fed against out will, the process of having a tube repeatedly forced up our noses and down our throats in order to keep us in a state of semi-starvation is extremely painful and the condition under which it is done are abusive. If you truly had my best medical interests at heart, you could have talked to me like a human being about my choices, instead of treating me in a way that feels like I am being punished for something."
"I have some sympathy for your impossible position," the detainees add in the letter. "Whether you continue in the military or return to civilian practice, you will have to live with what you have done and not done here eat Guantanamo for the rest of your life. Going forward, you can make a difference. You can choose to stop actively contributing to the abusive conditions I am currently enduring."
Army Lt Col Todd Breasseale, a Pentagon spokesman, told the Guardian, "We will not allow detainees to harm themselves – not with weapons, not with medication, not via self-imposed starvation to death."
"It's worth noting that not only is our practice the same as the one followed by the US Bureau of Prisons, but the practice of enteral feeding to prevent self-imposed starvation to death has been upheld by multiple US courts," he said. Even if that is so, however, Pres. Obama in his capacity as commander-in-chief has urged Congress to remove obstacles preventing the release of dozens of the Gitmo detainees. In a national security address earlier this month, he once more renewed his promise to free the prisoners.
"I have tried to close Gitmo," said Obama. "I transferred 67 detainees to other countries before Congress imposed restrictions to effectively prevent us from either transferring detainees to other countries, or imprisoning them in the United States. These restrictions make no sense."
Meanwhile, detainees ask that if the president's wishes are ignored, their own demands to be in charge of their own destiny by granted by the Gitmo guards.
"I am asking you only to raise with your superiors my urgent request that I be allowed access to examination by and independent medical advice from a doctor or doctors chosen by my lawyers, in confidence, and that those doctors be supplied with my full medical noted in advance of their visit," the letter concludes. "This is the least you can do to uphold the minimum of your oath to 'do no harm.'"