California GOP convention occupied by Ron Paul supporters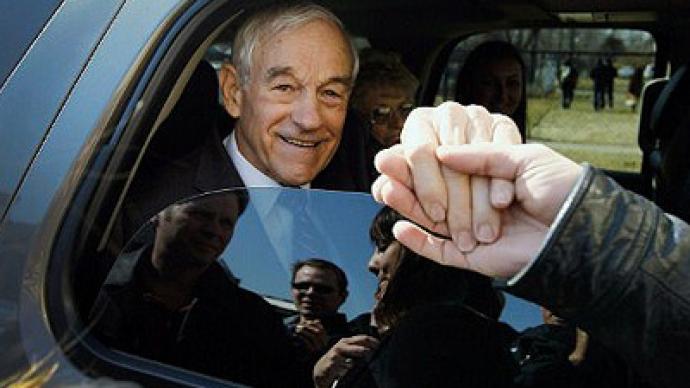 Former House Speaker Newt Gingrich was the only GOP contender for president to appear at a California Republican Party convention this past weekend, but supporters of rival Ron Paul made sure their candidate of choice was made known loud and clear.
The GOP convention in Burlingame, California became the site of an impromptu Ron Paul rally on Saturday when hundreds of supporters for the libertarian-leaning Republican candidate appeared on site and took over an event that was not even attended by the Texas congressman and presidential candidate. Some have since equated the random rally as an Occupy-style demonstration along the lines of the protests carried out by participants of the Occupy Wall Street movement.Last year, Paul had offered support for the OWS movement in not so many words, telling demonstrators during a November 2011 televised debate, "if you're going after crony capitalism, I'm all for it." In that same debate, Gingrich suggested that occupiers did not "have a clue about history," adding, "Historically this is the richest country in the history world because corporations succeed in creating both profits and jobs."Rival Newt Gingrich, who was the subject of attack ads created by the Congressman Paul late last year, was speaking at the event on Saturday for supporters who paid the $100-per-plate fee to hear him address the crowd.During the event, hundreds of Ron Paul supporters entered the Hyatt Hotel where the convention was hosted with signs showing their support for the Texas congressman. Some supporters, donned in rubber masks that emulated Paul's face, rallied in the hotel lobby with pro-Paul chants of support while brandishing signs. Gingrich had been picked as the keynote speaker for the event weeks earlier, reports the Silicon Valley Mercury News, although current polling from RealClearPolitics now puts the former speaker far behind the top-tier candidates. According to the research group, Gingrich is currently collecting only 14.1 percent of the Republican support on a national level, less than half of the 33.1 percent given to Senator Rick Santorum.Last month, Gingrich, Paul and Santorum were at a statistical dead-heat for second place, according to the group. Gingrich was considered a frontrunner in the race in December before the Paul campaign released a video labeling the former speaker as a "serial hypocrite."Tim Cavanaugh, a contributor to Reason Magazine's online blog, said that the flash-mob Ron Paul rally brought a breath of fresh air to a Republican Party convention that was seemingly otherwise stale. On his part, Cavanaugh writes that "cheers of wild enthusiasm" for Congressman Paul countered a convention which was draped with a "cloud of dread and hopelessness."Cavanaugh adds that, throughout the convention, registered Republicans in attendance had discussed their dismay with how the party was failing to prosper on local, state and national levels. Indeed, a day before, California Republican Party Chairman Tom Del Beccaro went on the record to say a "communication deficit" within the GOP in recent years had cost the party significant support.Outside of the convention, other Paul supporters showed favoritism for their candidate of choice by standing outside the hotel with campaign signs. Others then marched to the 101 Freeway and waved signs at passing automobiles.A day before the convention, republican National Committee co-chairman Sharon Day told the Oakland Tribune, "I think Americans truly are concerned about the direction this country has gone." Paul supporters echoed that sentiment during Saturday's convention, but perhaps not how Day would have expected. Chants of "End the Fed" and signs asking for the abolishment of the National Defense Authorization Act from Paul supporters overtook what was otherwise a mundane and non-monumental gathering of supporters of the establishment ideals backed by Gingrich. Earlier this week, Ron Paul dismissed rumors that he was conspiring with rival Mitt Romney to oust fellow candidate Rick Santorum from the GOP race. Asked during an engagement in Oklahoma City, Oklahoma on Sunday if he was in cahoots with Romney, Paul responded, "No, never."
You can share this story on social media: