FBI secretly requests data on thousands of Google users annually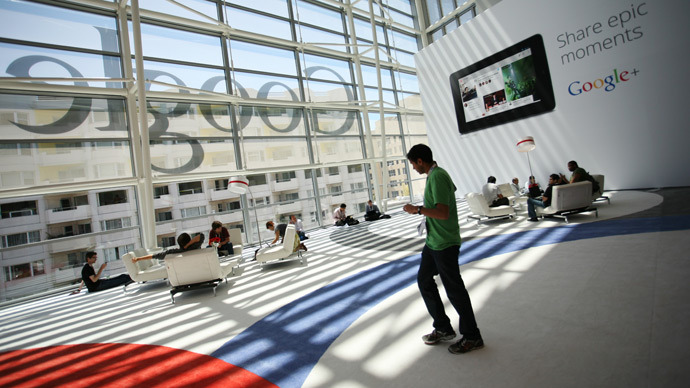 Google has revealed receiving up to 999 national security letters a year asking for the private user data of thousands of people. The company said the FBI is authorized to make such requests without warrants or disclosure to users.
Internet giant Google has included stats on user data requests from FBI in its recent Transparency Report, saying it has received between zero and 999 letters a year since 2009 that have asked for private information of 1,000 – 2,999 users. The company explained its use of ranges instead of exact figures due to concerns of the FBI and the US Department of Justice that "releasing exact numbers might reveal information about investigations."
National security letters (NSLs) compel Google to expose "name, address, length of service, and local and long distance toll billing records" of specified users. NSLs are said to be used only for conducting national security investigations by the US government.
Google's FAQ assures the FBI is still not permitted to obtain user email content, search queries, YouTube videos or IP addresses. Representatives from Google have previously dismissed allegations of disclosing such data, publicly as well as in court.
The FBI is "not required to get court approval to issue an NSL," the FAQ adds. In order to have the needed data granted, it is sufficient for the agency to enclose a document proving relevance to an "authorized investigation to protect against international terrorism or clandestine intelligence activities." The FBI also has the power to prohibit disclosure of the fact that an NSL was received in the first place.
Google has become the first company to ever release data on the volume of NSL requests. All internet companies and ISPs, as well as credit companies and financial institutions, can receive NSLs from the federal government.
The lack of court oversight makes extensive abuse and misuse of these highly secretive requests possible, Wired stated on Tuesday, telling of known cases of such abuse. The US Justice Department revealed in 2007 that the FBI agents could "illegally look" at customer records of certain companies with no paperwork involved at all.
According the DOJ report with the latest available figures, the total number of NSLs issued by the FBI in 2011 is just over 16,500.
The NSL stats are not included in Google's biannual Transparency Report, which showed 42,327 requests for personal data were submitted to the company by national governments and law enforcement agencies in 2012 alone. The US government topped the list, having made 16,407 such requests last year.

You can share this story on social media: