​Google moves into home hardware with purchase of Nest, sparking privacy concerns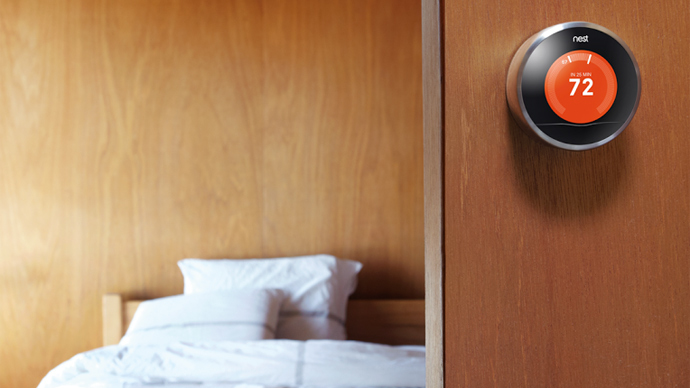 Google announced Monday it acquired Nest, a maker of futuristic "smart" thermostats and smoke alarms founded by two former Apple executives in 2011.
For US$3.2 billion, Google bought Nest, owned by Tony Fadell and Matt Rogers, in a move that puts the multinational power into the home-hardware business, offering it further access to the behavior of those who use its web services.
Nest is best known for thermostats and fire detectors controllable online and that are capable of self-adjusting based on user-input patterns. Fadell said in a Google blog post that, with the partnership, "Nest will be even better placed to build simple, thoughtful devices that make life easier at home, and that have a positive impact on the world."
The announcement led to immediate questions about the privacy of Nest customers. In a statement to TechCrunch, Fadell signaled that Nest will only use customer information for "providing and improving Nest's products and services," and not for integration with Google's formidable advertising apparatus.
Yet Google could still use Nest data as input into its overall online advertising and its other web services, forming its ads to when one is at home, for example. Google mobile application Google Now can already read this kind of information.
Nest raised over $150 million in funding earlier this month after it was previously valued at $2 billion, Wired reported.
The startup is known for its smart, internet-connected thermostat, promoted for its convenience and saving on utility bills. Nest recently revealed a smoke detector that uses both verbal and light signals to suggest a battery change or to notify of high carbon-monoxide levels.
Nest joins Motorola Mobility as Google's newest hardware additions. It also offers Chromebook Pixel, which runs its own Chrome OS, and Chromecast device for television.
Yet Wired's Marcus Wohlsen offers that the biggest catch for Google in the partnership may be Fadell, also known for designing the iPod:
"Fadell might be an even better catch. Fadell is an engineer with demonstrated mastery over all aspects of the hardware process, with a high-design sensibility to boot. From supply chain and components to fit and finish, Fadell has shown he can manage a product for a company with Apple's global reach."
"What's more, Nest shows he also has the chops to bring a product to market without the support and resources of a massive multinational. He even beat Apple into the so-called 'smart home' with a line of products that look and feel like what Apple might have designed if it had gotten there first."
You can share this story on social media: