Google investing more than $1 billion in alternative energy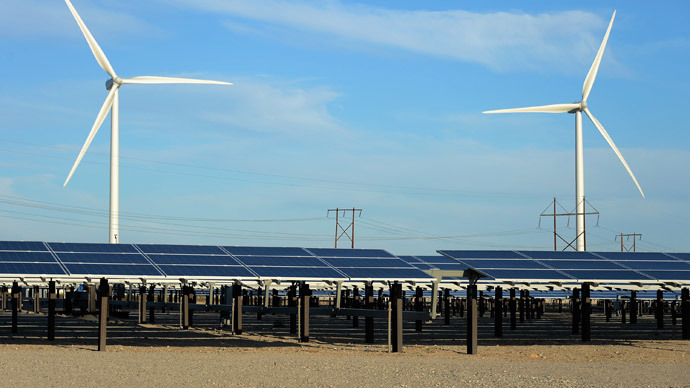 ​Around one-third of Google's operations are made possible by renewable power, but the Silicon Valley giant is gunning to become completely reliant on resources like wind and the sun.
Rick Needham, the director of Google's Energy and Sustainability office, told CNBC recently that 34 percent of the search engine company's day-to-day operations are currently powered by reusable resources. If all goes as planned, though, before long that statistic could soar as high up as 100 percent.
Speaking to CNBC for an article published on Sunday, Needham acknowledged that a huge amount of Google's spending has been going towards advancing the company's reliance on energy sources like solar power.
In just the last quarter, Needham said, Google spent $2.25 billion on data centers and its general infrastructure, which is a lot for even one of the tech industry's biggest companies. To bring the cost down, Google has been investing tons lately to be used towards alternative energy sources.
"We've invested over a billion dollars in 15 projects that have the capacity to produce two gigawatts of power around the world, mostly in the US, but that's the equivalent of Hoover's Dam worth of power generation," Needham told the network. According to IT Pro Portal reporter Paul Cooper, that $1 billion worth of spending has all occurred in just the last year, with new endeavors being unveiled as recently as last week.
One of the latest pieces of Google's puzzle came into place last Thursday when the company officially began operations at a massive solar thermal project in Ivanpah, California that uses 357,000 sun-facing mirrors to make around 394 megawatts of electricity. That project is the largest of its kind in the entire world, and is capable of making enough energy to power around 140,000 area homes.
"The Ivanpah project is a shining example of how America is becoming a world leader in solar energy," US Energy Secretary Ernest Moniz said in a statement to the Associated Press after Thursday's dedication ceremony at the site. "This project shows that building a clean-energy economy creates jobs, curbs greenhouse gas emissions and fosters American innovation."
That project, valued at around $2.2 billion in all, is funded in part by $168 million made possible by Google and other funds courtesy of NRG Energy, Oakland-based BrightSource Energy and loans guaranteed by the US Energy Department.
That $168 million figure represents only a sliver of the $1 billion in wind and solar investments that Google has made during the last year, and to CNBC Needham said that it only makes since that a company has extensive as his has expressed interest in renewable energy.
"The fact is that all of these things, procuring power for ourselves, investing in power plants, renewable power plants, they all make business sense, they make sense for us as a company to do. We rely on power for our business," he said.
"At Google we invest in innovative renewable energy projects that have the potential to transform the energy landscape and help provide more clean power to businesses and homes around the world," Needham added in a statement sent to the IB Times. "Ivanpah is a shining example of such a project and we're delighted to be a part of it."
Solar power farms aren't the only types of operations Google has been investing in lately, either. As RT has reportedly several times lately, the company has been spending millions on acquiring robotics and artificial intelligence firms, and — like renewable energy — Google intends on making those new additions a major part of the team before long. Speaking to the Independent last year, Google engineer Scott Huffman said new advances in AI will allow the company's computers to soon "understand context in conversation"and soon be more human than ever.
You can share this story on social media: