Hunger striker v Barack Obama: US court to hear historic Gitmo case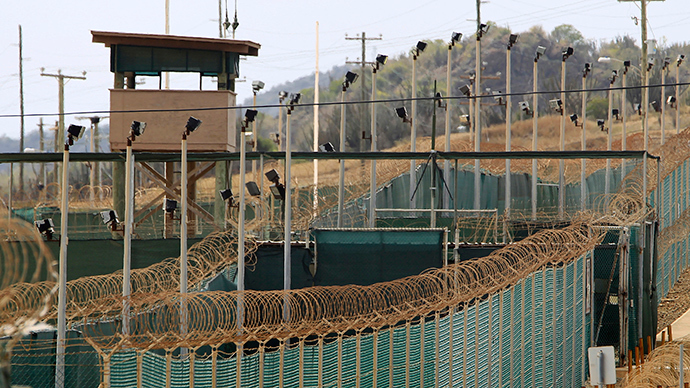 A Yemeni inmate at Guantanamo Bay has introduced a landmark lawsuit challenging the practice of force-feeding at the US military prison camp. The case represents the first time a US court will hear allegations of detainee abuse at Gitmo.
The plaintiff, Emad Abdullah Hassan, says he has been force-fed more than 5,000 times since 2007 as part of the military's efforts to break his hunger strike, the UK-based human rights organization Reprieve said Tuesday, citing court documents. The 34-year old has been held at Guantánamo Bay since 2002 without charge and is said to be gravely ill.
"All I want is what President Obama promised – my liberty, and fair treatment for others. I have been cleared for five years, and I have been force-fed for seven years. This is not a life worth living, it is a life of constant pain and suffering. While I do not want to die, it is surely my right to protest peacefully without being degraded and abused every day."
Imad Abdullah Hassan v Barack Obama will mark the first time a US court will be able to determine the legality of methods used by the military to force-feed prisoners. Hassan's legal team argues that the force feeding has intentionally been administered in a manner painful enough to break the hunger strikers' resolve.
One way in which the procedure has allegedly been altered involves the speed with which the liquid is delivered. Hassan's lawyers argue it is delivered in such a way as to cause excessive pain and suffering, making it a form of water torture analogous to water-boarding.
Hassan claims detainees are force-fed up to a gallon of nutrients and water at a time, while another inmate said that feeding sessions have been sped up, sometimes compressed into as little as 20 minutes, AP reports.
"When liquid is forced into him at excessive speed, [Hassan] vomits on himself. The feeding process starts again, but the vomit remains. With the nutrient mix comes the forcible administration of medication to counteract his inevitable constipation. The most humiliating aspect of the whole process, he says, is when he defecates on himself and is forced to remain seated for an hour or more before being returned to his cell — where he will be refused clean clothes," Clive Stafford Smith, the founder and director of Reprieve who is representing Hassan, wrote in an op-ed for Al-Jazeera.
Hassan said prison officials continued to force feeding tubes into his right nostril despite complaining of sinus problems. He further told smith that in order to combat the nausea induced during the external feedings, he was forced to take Reglan, a drug that "made him feel crazy."
While on the drug, Hassan "would sit on his bed, legs folded, thinking that he was talking to the nurse, but he actually found that he was talking to himself," Stafford Smith wrote in his declaration, which is being filed in District Court in Washington, DC. Inmates also say they were prohibited from participating in communal prayers during the holy month of Ramadan to penalize hunger strikers.
Lt. Col. Todd Breasseale, a Defense Department representative, told the Qatari-based broadcaster they are unable to comment on an issue mentioning the president.
Breasseale did say, however, that information obtained by Stafford Smith regarding practices at Guantánamo had been gleaned from biased sources.
"Both the detainee and Reprieve have a specific agenda. That agenda may not comport with the truth or reality," Breasseale said.
You can share this story on social media: