Girl, 15, says cop forced her to strip and prove she wasn't having sex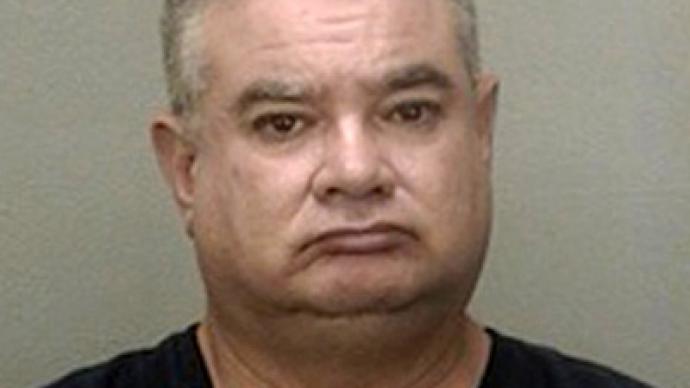 A Miramar, Florida police captain is being investigated by the department over allegations that he insisted that a 15-year-old girl strip in front of him so he could inspect her body to make sure she wasn't having sex.
Miramar Police Capt. Juan De Los Rios, 46, is free on bail after being arrested on Friday over lewd conduct charges stemming from a January 18 incident. According to the victims — a 15-year-old girl and a 19-year-old male — Capt. De Los Rios approached a parked car the teens were in earlier this year, interrogated them and then insisted that the female passenger disrobe and demonstrate to the officer that she was not having sex.The two teenagers say that they were parked outside of a Miramar, FL industrial complex when a man dressed in dark blue and brandishing a gold badge approached their car and began questioning them through the window."Well, were you having sex? What are you doing here?" they say the officer asked. "No anal sex? No sex in general?" the officer continued.According to the affidavit, the girl insisted to the officer that they had not been engaged in any sexual activity and that the two were just talking. The officer objected to the claims, though, and told the girl that he "needed to check.""Check what?" the affidavit claims the girl asked."I need to see inside," Capt. De Los Rios responded. From there, the girl claims that the officer used a flashlight to "inspect" her then offered further instructions. The arrest report reveals that the officer allegedly added, "I need you to pull your pants down. I need you to take it all the way off," then insisting, "I need you to open it."The male driver of the car adds that the officer then told the girl, "I need you to spread your legs wider so I can see," after which he insisted that she pull down her blouse to check her breasts for bruising. Days after the January 18 incident, the girl came forth with her allegations and a complaint was filed. She then later picked the officer out of a line-up. De Los Rios was off of work on administrative leave for the five months since, but volunteered himself in to authorities on Friday after an arrest warrant was issued. He has since posted the $30,000 bond and is free pending an eventual hearing, where a guilty verdict could come with a 15 year prison sentence. He is being charged with two counts of lewd or lascivious conduct upon a child under the age of 17 by an offender over the age of 18.
You can share this story on social media: