Former Obama spokesperson says he was barred from discussing drones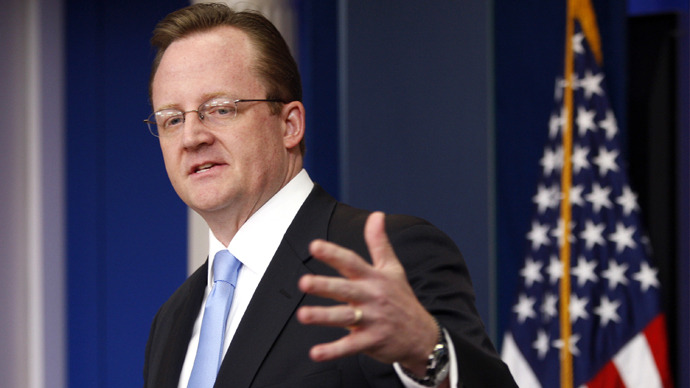 President Barack Obama's former press secretary said over the weekend that the White House restricted him from even recognizing the United States' overseas drone program.
Robert Gibbs, who served as the president's official spokesperson from 2009 through 2011, told MSNBC host Chris Hayes that early on in his White House days he was told he couldn't even attest to the use of drones.
"When I went through the process of becoming press secretary, one of the first things they told me was, you're not even to acknowledge the drone program," he said during Sunday's broadcast of "Up With Chris Hayes." "You're not even to discuss that it exists," he said.
First begun under President George W. Bush, America's drone program has grown exponentially under Pres. Obama. Only with the recent leaking of official whitepapers alleged to justify the use of drones to execute American citizens abroad has the program put in the spotlight, though. That release has since led to widespread calls for more information on the program from both the public and members of Congress, who have threatened to keep Pres. Obama's cabinet nominees from being confirmed until they hear more about the use of unmanned aerial vehicles.
"I think you`ve seen recently the president discuss the need and desire to be more forthcoming," Gibbs told Hayes, but not before adding, "I certainly think there are aspects of that program that are and will remain highly sensitive and very secret."
One facet of America's drone wars that has gone largely unreported is the tally of casualties caused by the aircraft. In an online interview last year, Pres. Obama insisted the program "is kept on a very tight leash," yet little-to-no information has been made publically available about the effectiveness of UAVs in eliminating terrorists. Just last week, however, one senior lawmaker revealed an alarming statistic: speaking before constituents in South Carolina, Sen. Lindsey Graham (R-SC) said drones have killed roughly 4,700 people abroad.
"Sometimes you hit innocent people, and I hate that, but we're at war, and we've taken out some very senior members of al-Qaeda," he said.
Graham's comment comes as perhaps the first ever confirmation of the drone program's death toll amid increasing reports of drone strikes abroad. Speaking to MSNBC's Hayes, the former White House official said the lack of transparency into the program could be off-putting to the American people.
"I have not talked to him about this, so I want to be careful," Gibbs said, "but I think what the president has seen is, our denial of the existence of the program when it's obviously happening undermines people's confidence overall in the decisions that their government makes."
During the State of the Union address earlier this month, Pres. Obama vowed, "in the months ahead, I will continue to engage Congress to ensure not only that our targeting, detention and prosecution of terrorists remains consistent with our laws and system of checks and balances, but that our efforts are even more transparent to the American people and to the world."
Gibbs, who recently joined MSNBC as a commentator, served as press secretary under Pres. Obama from the first day of his first term through February 2011. According to the New America Foundation, as many as 1,681 casualties could have been caused by US-led drone strikes while Gibbs was in the White House. While in office in 2010, images picked up by a US drone led to a military assault in Uruzgan province, Afghanistan that killed two dozen people mistakenly identified as insurgents. When the number of drone strikes increased dramatically during Pres. Obama's second year in office, the Long War Journal called a surge in assaults "unprecedented."
You can share this story on social media: