GA law would give private companies unprecedented influence over probation system
Published time: 26 Mar, 2014 03:45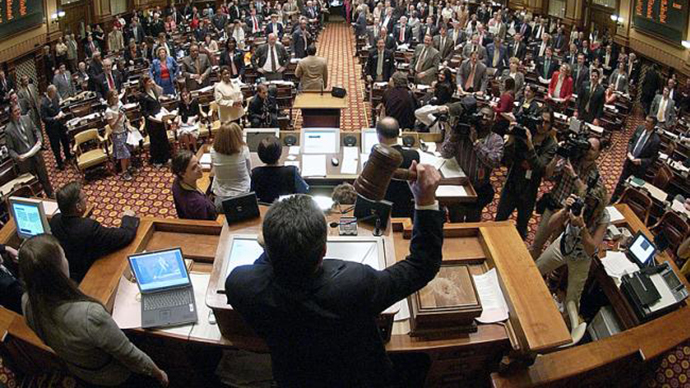 Georgia lawmakers have passed a controversial bill that, if passed, will boost the influence of for-profit firms by giving these companies some jurisdiction over state residents who are on probation.
The state House of Representatives voted 105-62 on Thursday to modify a state statute that restricts government's' power to hire private probation companies to supervise offenders convicted of misdemeanors, a category that includes almost all traffic offenses committed in the state.
The bill, which has already passed in the Senate and now moves to the governor's desk, permits private probation companies to use a variety of expensive electronic monitoring techniques and collect fees from the offender. They may also ask a judge to extend an individual's probation before that person has a hearing in front of the judge.
The legislation comes as a direct response to a recent court ruling from Superior Court Judge Daniel J. Craig, who ruled that the extension of probation sentences and electronic monitoring are reserved only for state officials.
According to the Augusta Chronicle, the bill also makes clear that if a judge imposes a probation sentence, the judge must require some kind of payment of probationary fees to the private companies and, if that fee is not paid, the probationer in question can be incarcerated.
If a judge finds that supervision causes undue financial hardship he may instead sentence an offender to community service or waive supervision fees, the newspaper explained.
Such a law would give much more leeway to the very firms that have come under harsh legal and public scrutiny in recent years for the perception that they prey on poor residents in not only Georgia, but a number of states. A Human Rights Watch report published last month found that a man who tried to steal a $2 can of beer wound up in jail after failing to pay a $200 fine before it ballooned into a $1,000 fine under the jurisdiction of a private firm.
Sarah Geraghty, an attorney at the Southern Center for Human Rights, told the Chronicle's Sandy Hodson that the bill is "a gift to the private probation industry."
"It further expands the reach of private probation companies, while simultaneously barring the media and public from access to even the most basic information," she said. "I can think of no rational reason to hide such information from members of the public whose tax dollars fund the courts of this state."
One firm, Sentinel Offender Services, has reportedly maintained an open arrest warrant for a suspect whose arrest warrant in fact expired two years earlier. The same company was reprimanded in court for illegally extending the probation sentences of possibly thousands of Georgians. These incidents and the countless others like them often come in occur in communities where the fine imposed may dwarf the monthly income of residents.
"Many of the people supervised by these companies wouldn't be on probation to begin with if they had more money," Chris Albin-Lackey, a senior researcher on business and human rights, said in the Human Rights Watch report. "Often, the poorer people are, the more they ultimately pay in company fees and the more likely it is that they will wind up behind bars."
Prior attempts to enact privacy safeguards and other accountability measures were removed from the bill when it went up for debate in the state Senate's non-civil judiciary committee. Senator Jesse Stone, a Republican from Waynesboro who chairs that committee, is reportedly one of the few candidates being considered for the State Court judgeship in Burke County, which works closely with private probation companies.
Georgia Governor Nathan Deal (a Republican) has not announced if he plans to sign the bill or not. If he does, someone on probation can expect to soon being paying $2,190 or $4,380 to Sentinel Offender Services for a year of monitoring, lawyer John B. Long told the Chronicle.
"None of these fees go to the government. This (bill) will enable a private company to collect more from the judicial system that the government collects in fines," he said.
"More importantly, no judge or local government official has required any disclosure about the profits made off the backs of working Georgians through this system. This bill, if passed, will lead to further abuse of the judicial system."