Georgia passes anti-immigration bill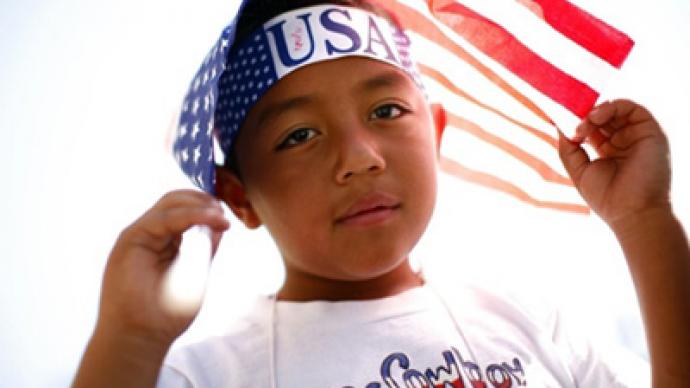 "Today is a dark day for Georgia," says the state's Association of Latino Elected Officials Executive Director Jerry Gonzalez on Friday.
Georgia Governor Nathan Deal signed into law on Friday a bill that gives authority for police to question suspects in regards to their immigration status, similar to the Support Our Law Enforcement and Safe Neighborhoods Act enacted last year in Arizona, viewed as the strictest anti-illegal immigration measure in memory for most Americans.Despite threats of court challenges and economic boycotts directed toward the Peach State, Governor Deal passed Georgia House Bill 87 early Friday, saying "Today, we are taking action to uphold the rule of law."In addition to allowing police to profile suspects in regards to their citizenship, the new immigration enforcement measure also sets new hiring requirements for employers, who will now be required to check the status of newly hired workers on E-Verify, a federal database. Supporters make claims that illegal immigrants have taken jobs from Georgians and have caused a burden on the state's school system, hospitals and jails.At around 425,000 people, Georgia has the seventh-highest number of illegal immigrants in the 50 United States. Those that make up that tally, say supporters of the bill, are reaping in the benefits of the state's tax-paying population.Others, however, are adamantly opposed to what Gonzalez and fellow activists believe will be a sure-fire fallout in response to the bill's passing. Members of the state's agricultural, landscaping and hospitality industries fear that the bill will shatter the state's economy as migrant workers flee Georgia. In preparation of the bill's passing, the US Human Rights Network has already canceled plans to have its annual conference in Atlanta. The state's tourism industry itself is said to generate around $10 billion."Our concern stems from the very serious economic repercussions that will be felt against our state on numerous fronts and the very serious civil and human rights abuses that will also likely follow," says Gonzalez.Opposition has existed since talk of the bill first began, and those rallying against its ratification have long been plotting legal action. Before Governor Deal took pen to paper, Charles Kuck made claims that he looks "forward to stopping this unconstitutional law from ever taking effect." Kuck, an immigration attorney working near Atlanta, has also served in the past as president of the American Immigration Lawyers Association.Adelina Nicholls, executive director of the Georgia Latino Alliance for Human Rights, told the Atlantic Journal-Constitution that the bill "is not only an insult to the Latino community and other immigrants, but is also an exercise in cheap political pandering that will cost our state dearly.""This is not the end, only the beginning of a new stage. This law can and must be fought; and it can and will be defeated," adds Nicholls.Starting July 1, illegal immigrants with falsified documentation face up to 15 years in prison in Georgia. Local and state police will be able to incarcerate illegal immigrants in state and federal jails and even those that encourage immigrants to come to Georgia could face penalties of $1,000.Come 2012, state and local government agencies will require people applying for food stamps, housing assistance and other public benefits to provide valid documentation.
You can share this story on social media: