American corporations vs. worker rights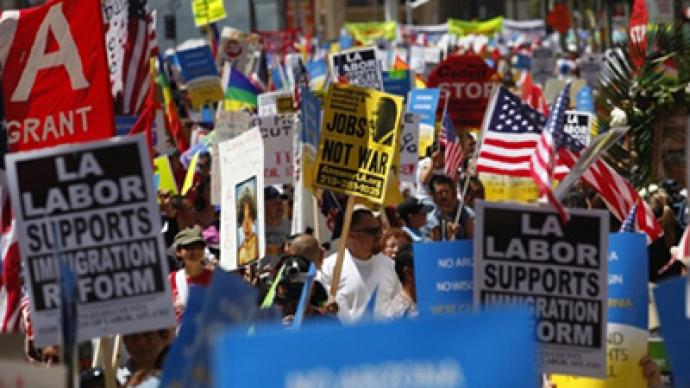 Marked by protesters demanding better pay and jobs, International Workers Day rallies held special meaning this year as more Americans find it tough to find work, and at a time when corporations make it their mission to knock out unions.
On May 1, thousands of people took to the streets of Los Angeles demanding more jobs and better pay.Like many other May Day marches across America, the march in Los Angeles has also transformed into a cry for immigration reform.Rage Against the Machine guitarist, Tom Morello thinks that workers are workers."Around the world on May first, workers of all stripes, of all religions of all colors, flood the streets and show solidarity with one another," said Morello."It celebrates the history of worker's progress of worker's struggles, or worker successes, and of the challenges we have before us, so I'm always on the streets on May first." Union members in particular are feeling the challenges to workers rights.Steve Gersdorff, a teacher, worries about his ability to earn a decent wage, at a time when collective bargaining rights across the country are under attack."I don't think that people on the billionaire's side understand that there is power in people," said Gersdorff."There's power in unity, and the more they think that they can get away with stuff, it activates people." International Workers Day has its roots in America, when workers organized to demand an eight hour work day.Today, May Day is not an official holiday in the United States and marches like the one in Los Angeles are still not as passionate as the rallies taking place in other parts of the world.In Turkey, hundreds of thousands of people flooded the streets of Istanbul demanding better jobs and pay.In Cuba, massive crowds in red and white marched through Havana to commemorate the worker's holiday.In Germany, anti-capitalist demonstrators clashed with police in Berlin."I think the word will spread," said Gersdorff. "The more and more people get pushed around, it'll spread.It starts in the big cities and it will spread worldwide."Gersdorff and other demonstrators believe that it is only a matter of time before America wakes up to what he calls an attack on the working class, and join a wider struggle to achieve a fairer and more equal society."This corporate agenda, these right wing governors, right wing politicians are trying to make this a country of the corporations by the corporations and for the corporations," said Morello. "As you see on the streets of Los Angeles, today, we want this to be a country of the people by the people and for the people."Jonathan Tasini, the president of the Economic Future Group explained there is a strong attack on worker rights in America, it is nearly impossible to form a union in the US because of a fear of losing one's job. "Less than 8 percent of the private sector workforce is in a union," he explainedAmericans are unfamiliar with unions. Union topics are not taught in schools and most people aware of unions are fed misinformation about what they are. "Prosperity has led to an acceptance of a lifestyle of we don't fight, we don't struggle," he added, explaining why few people push against corporations to form unions. The political system, both Republicans and Democrats often side with corporations over workers, explained Tasini. The people need to fight for their rights back or face the possibility of losing more. However, there is a lack of leadership driving a workers movement. Change is taking place, more and more people are beginning to push back, but greater advances are needed, he argued.
You can share this story on social media: