Georgia approves Confederate flag license plates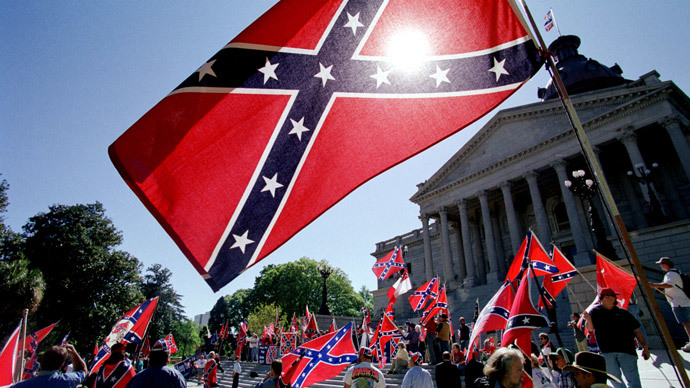 A new Confederate flag license plate now available in the state of Georgia is driving civil rights advocates mad.
The design, first reported on Tuesday this week by the Atlanta Journal-Constitution, is available to any registered driver in Georgia who is willing to shell out $80 for a vanity plate that displays the Confederate battle flag design. Ten dollars from that, the paper reported, goes to the Sons of Confederate Veterans — a fraternal service organization founded more than 100 years ago at the end of the Civil War that is sponsoring the plates.
"We believe that everyone has the right to preserve their heritage," Ray McBerry, a spokesperson for the SCV, told the Journal-Constitution this week. "Southerners have as much right to be proud of their heritage as anybody else."
Others, however, don't exactly agree. Southern Christian Leadership Conference spokesman Maynard Eaton told The Atlanta Journal-Constitution that the state should have stepped in to stop the design from becoming available, and went as far as to call the SCV tags "reprehensible."
"We don't have license plates saying 'Black Power,'" Eaton said. "It's a slap in the face."
"Could you imagine a person or group going to ANY state capital submitting paperwork for a Black Panther license plate ..." one blogger commented on the Urban Intellectuals website.
SCV leaders say the plate isn't about race, though, and that their organization's efforts are intended to do nothing more than to pay tribute to their ancestors' involvement in the bloody war that pitted North against South.
"The preservation of liberty and freedom was the motivating factor in the South's decision to fight the Second American Revolution. The tenacity with which Confederate soldiers fought underscored their belief in the rights guaranteed by the Constitution," the group says on their website. "These attributes are the underpinning of our democratic society and represent the foundation on which this nation was built."
According to the Journal-Constitution, SCV spokesperson McBerry said the state could be accused of discrimination if they heed the calls of the civil rights advocates like Eaton who want the plate outlawed.
"By sanctioning the plate, they are not saying they agree with our organization. They're just saying it's a level playing field," he said.
As far as state officials are concerned, though, the latest license plate to stir up debate isn't anything new. Nick Genesi, the director of communications for the Georgia Department of Revenue, told the IB Times on Wednesday that the new SCV plate is merely an updated version of a previously available plate — the likes of which was ordered more than 400 times between 2012 and 2013. A least 35 Georgians have already ordered copies of the SCV plate, which was approved on Feb. 1.
You can share this story on social media: