George Soros gets violent in bed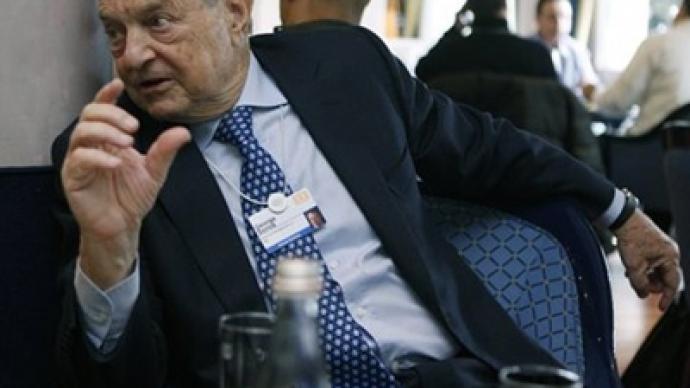 It's bad enough that George Soros is sitting on billions with no idea how to spend it, but now the 80-year-old hedge fund magnate has an even bigger headache as the world is hearing from his hot, Brazilian ex that he got violent in the sack.
Soap Opera star Adriana Ferreyr has filed a $50 million lawsuit against Soros in New York City, alleging that the billionaire financial wiz reneged on a promise of a posh pad he intended on giving her – then slapped and choked herFerreyr claims that Sorros had promised her a $1.9 million apartment in the Upper East Side of Manhattan during their five year relationship. The couple split up in 2010, but Ferreyr says that Soros whispered into her ear while in bed during a recent reunion that he had gifted the flat to another woman.According to the lawsuit, things heated up immediately after Soros disclosed his deviancy. "While still in bed, Soros slapped Ferreyr across the face and proceeded to put his hands around her neck in an attempt to choke her," the suit claims.From there, Soros allegedly brandished a glass lamp and attempted to strike Ferreyr. Old as dirt, it shouldn't come as a surprise that Soros was unable to deliver and ended up dropping the lamp to the floor. The object then splintered apart, sending shards into the TV star's foot, for which she then received three stitches.The suit says that the cops were called on Soros, but Ferreyr declined to file charges.A spokesperson for Soros says the allegations brought forth in the suit are completely fabricated. "This is obviously nothing more than an attempt to extract money from a wealthy man who has done so much for the community," Michael Vachon tells the New York Daily News. William Zabel, an attorney for the billionaire, adds that the suit is "frivolous and entirely without merit." To the New York Post, Zabel acknowledged the "on again, off-again" relationship between the couple, which he stresses was "non-exclusive," but calls her lawsuit an obvious attempt to make money off of his client.Zabel adds that a police investigation concluded that no assault occurred and that Soros did not slap, choke or even manage to wrap his flabby, prune-like wrinkled digits across a lamp and attempt to muster up the strength of a mere child to try and strike his ex with it.Ferreyr's filing alleges that the Soap star found her dream home at 30 East 86 St in New York, two blocks from Soros' pad, who then agreed to buy it for her. Before he could pass it on to Ferreyr, however, Soros supposedly gave it to another woman. The lawsuit says that Soros apologized for the mix-up and offered to pay for another apartment for Ferreyr, more than double the price of the first one, but he reneged on that as well.