Bush 'very comfortable' with Iraq War and wants brother Jeb to be next president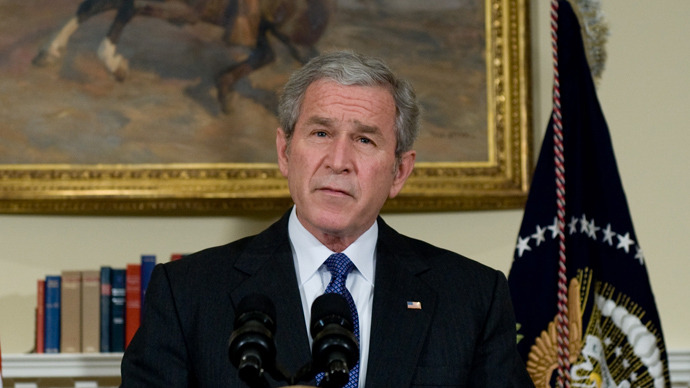 Former President George W. Bush has no regrets about the decisions he made in office, and believes his brother would make a "marvelous candidate" for president in the 2016 race.
"I'm comfortable with what I did," Bush said while reflecting on his legacy earlier this month. "I'm comfortable with who I am."
And in a series of media interviews to promote the opening of his presidential library and museum, Bush continues to reaffirm just how comfortable he is with the decisions he made regarding his presidency and the Iraq War.  
"I am comfortable in the decision-making process. I think the removal of Saddam Hussein was the right decision for not only our own security but for giving people a chance to live in a free society," he told ABC's Diane Sawyer.
The former president reused the word in multiple interviews, and even went so far as to tell Sawyer how "very comfortable" he is with his decision to invade Iraq – despite the fact that no weapons of mass destruction were ever found.
He said that those who doubt his decisions and want to learn the facts he had access to as president can visit the Presidential Center, which includes a library and a museum that opened their doors on Thursday. 
Although Bush told USA TODAY that he is not attempting to "correct the record" about his eight years in office or create any sort of specific legacy, he said the Presidential Center will provide information that can be "properly analyzed by historians who will come to the archives and do research and … look at the impact of the decisions I made" with "enough time to objectively analyze" them.
And while Bush preoccupies himself with the new center, he hopes his younger brother, former Florida Gov. Jeb Bush, will consider running for president during the next election.
"He'd be a marvelous candidate if he chooses to do so," the former president told Sawyer. "He doesn't need my counsel 'cause he knows what it is, which is 'run'." He also said that ultimately, running for president is a "very personal decision".
But the comments instigated opposition from Barbara Bush, who said she opposes the idea of having her youngest son follow the lead.
"There are other people out there that are very qualified and we've had enough Bushes," she told NBC's Matt Lauer.
But despite the controversy surrounding the decisions the 43rd president made and regardless of his brother's future, it does not appear that his confidence will falter. President Barack Obama attended the dedication of the Presidential Center on Thursday, and praised his predecessor for standing strong against the opposition.
"We know President Bush the man," Obama said. "To know the man is to like the man. Because he's comfortable in his own skin. He knows who he is. He doesn't put on any pretenses."
By repeatedly emphasizing how "comfortable" he is with himself and even having the current president describe him that way, former president George W. Bush hopes his library and museum will serve to reinforce the decisions he made as president -- even though those decisions led the US into a $1.7 trillion conflict that took the lives of 134,000 Iraqi civilians and subjected prisoners to "enhanced interrogation techniques".
You can share this story on social media: