General John Allen cleared in Petraeus sex scandal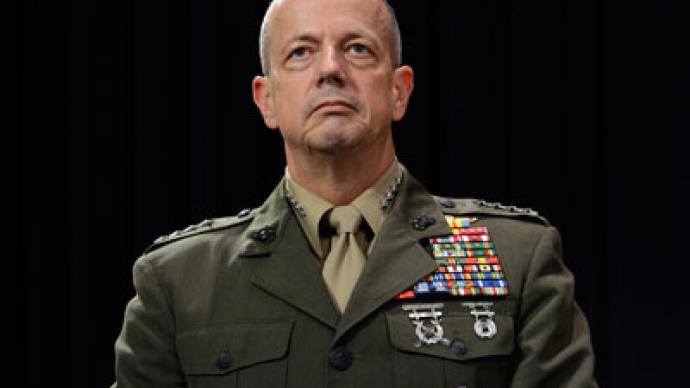 The Department of Defense has concluded their investigation of General John Allen and has determined that the top US commander in Afghanistan did not have an inappropriate relationship with a woman linked to former CIA chief Gen. David Petraeus.
As a probe widened last year into Gen. Petraeus' extramarital relationship with his biographer, Paula Broadwell, a Pentagon-led investigation linked Allen with Jill Kelley, a Florida socialite who originally altered authorities to the former CIA chief's affair. Kelley alleged that she received threatening emails from Broadwell, which in turn prompted authorities to comb through her inbox and eventually uncover not just a relationship between Gen. Petraeus and his biographer, but thousands of pages of correspondence between Kelley and Allen. Immediately after details of the Petraeus/Broadwell affair surfaced, the then-CIA head offered his resignation and apologized for his conduct, offering a statement saying, "Such behavior is unacceptable, both as a husband and as the leader of an organization such as ours."Only two months after the fact, however, has the Pentagon now formally cleared Gen. Allen of any wrongdoing. Over the course of their investigation, the FBI uncovered upwards of 30,000 pages of potentially inappropriate emails between Allen and Kelley which have only now been declared harmless.After a meeting with Defense Secretary Leon Panetta this week, Pentagon press secretary George Little told reporters on Tuesday that the investigation into Gen. Allen had ended successfully and that no wrongdoing was discovered."The secretary was pleased to learn that allegations of professional misconduct were not substantiated by the investigation," Little said. Additionally, Little insisted that Panetta has "complete confidence in the continued leadership" of Allen, a four-star general.Before news of the Petraeus affair ever surfaced, Gen. Allen was nominated to be the Supreme Allied Commander of NATO's European forces. Secretary initially put that nomination on hold once the scandal started to snowball, but Allen is now expected to be confirmed in the coming days for his new role.
You can share this story on social media: