Sharing is not caring: FTC probes app providers for revealing kids' personal data
Published time: 11 Dec, 2012 09:06
Edited time: 11 Dec, 2012 14:14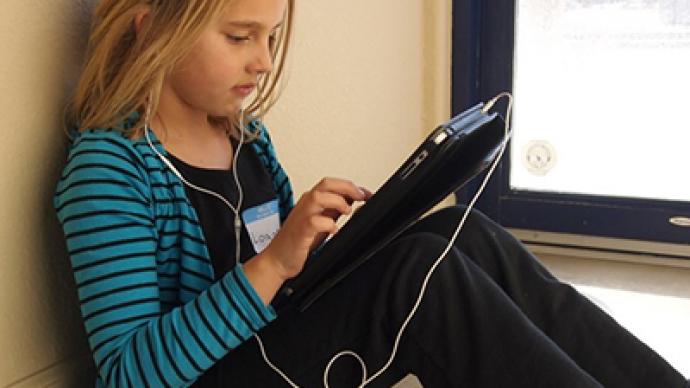 Parents need to think twice before letting kids use apps on their portable devices, as it may reveal youngsters geolocation along with other data which can later be shared with third parties, FTC warned as it seeks to crack down on the practice.
The Federal Trade Commission (FTC) says that 6 out of 10 apps surveyed in the report share collected data about a user's mobile device with other developers, advertising networks, analytics companies and other third parties without parental consent. The data includes such personal information as device ID, geolocation, and the user's phone number.
"Our study shows that kids' apps siphon an alarming amount of information from mobile devices without disclosing this fact to parents," FTC Chairman Jon Leibowitz said in a statement. "All the companies in the mobile app space, especially the gatekeepers of the app stores, need to do a better job."
The report further shows that apps contained features such as advertising, the ability to make in-app purchases, and links to social media without notifying parents of this beforehand.
The FTC stated that it wants to make that type of information private and to force companies to get parental permission to get access to data.
The FTC investigation targets mobile app makers, but does not identify which ones. The agency did call upon Apple and Google to straighten out their privacy practices.
One of the main concerns is that the device number can be used to compile information on kids' online activities and locations, subjecting them to marketing techniques that they are not ready for.
The FTC's goal is to toughen the Children's Online Privacy Protection Act, or COPPA – the 1998 law that makes it mandatory for companies to get parental consent before collecting information about kids under 13.
The agency wants to prohibit websites and mobile apps that target kids under 13 from setting up tracking cookies or using GPS location tracking for marketing without parental consent.
Experts believe that if the FTC threatened to name names then some progress could be made.
"Revealing names is the real incentive to issue a fully compliant privacy notice," privacy lawyer Lisa Sotto told Los Angeles Times. "There is no question that the apps community will pay attention."
Exposure to mobile devices at an early age makes kids vulnerable, believes American University professor Kathryn Montgomery.
"In the rapidly growing children's mobile market, companies are seizing on new ways to target children, unleashing a growing arsenal of interactive techniques, including geo-location and use of personal contact data," Montgomery said. "It is clear that there is an urgent need for the FTC to update its COPPA."
The FTC's biggest case was against Sony Music that collected and shared personal information of 30,000 children under the age of 13 and was fined to pay US $1 million in 2008.