Fracking ignites fights over water in drought-stricken regions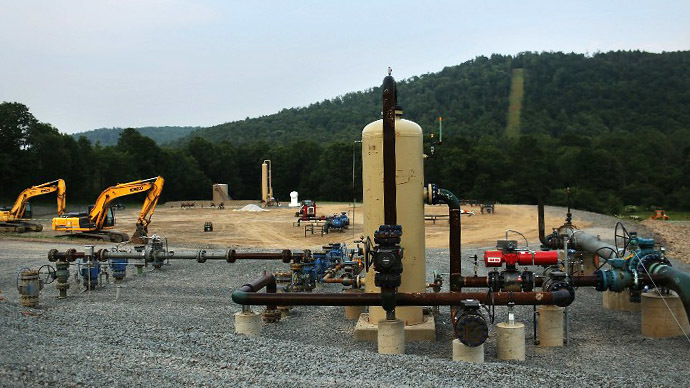 US states suffering a drought are facing a dire water crisis exacerbated by hydraulic fracturing. The procedure consumes vast amounts of water, which has driven up prices and depleted certain aquifers and rivers.
In drought-stricken regions, fracking is taking a serious toll on the water availability of local communities, in some cases turning water into a scarce and expensive resource. The procedure powerfully blasts water, fine sand and chemicals into the ground to shatter rock formations and release oil or gas.
Fracking is occurring in several counties in Arkansas, Colorado, New Mexico, Oklahoma, Texas, Utah and Wyoming, which are currently suffering a severe drought, the Associated Press reports. Although the procedure requires less water than farming or overall residential uses, it contributes to the depletion of an already-scare resource.
Some oil and gas companies manage to drain states of their water supply without spending any money, by depleting underground aquifers or rivers. But when unable to acquire the resource for free, the corporations can purchase large quantities at hefty prices.
"There is a new player for water, which is oil and gas," Colorado farmer Kent Peppler told AP, noting that he is fallowing some of his corn fields because he can't afford to irritate them. "And certainly they are in a position to pay a whole lot more than we are."
Peppler, president of the Rocky Mountain Farmers Union, said that the price of water has skyrocketed since oil companies have moved in. The Meade, Colo. Farmer said he used to pay $9 to $100 per acre-foot of water at city-held auctions, but that energy companies are now buying the excess supplies for $1,200 to $2,900 per acre-foot.
Last year, the city of Aurora sold 2.4 billion gallons of sewer water to the oil company Anadarko for $9.5 billion, AP reports.
With oil and gas companies willing to spend large sums of money on excess sewer water, the cost of this valuable resource has risen across several drought-stricken states. Some local farmers, unable to afford crucial irrigation for their fields, say they are praying for rain.
"I was going to bed every night and praying to the good Lord that we would get just one rain on the crop," West Texas cotton farmer Charlie Smith told AP, noting that he is selling some of his groundwater to drillers, since it is not enough to irrigate his crops. "I realized we're not making any money farming, so why not sell the water to the oil companies? Every little bit helps."
Environmental activists are calling for limitations on drilling in drought-stricken regions.
"We don't want to look up 20 years from now and say, 'Oops, we used up all our water," said Jason Bane of the Western Resources Advocates.
Last summer's record-breaking drought, which was the worst since the 1930's Dust Bowl, resulted in a crop shortages that raised prices in US grocery stores. With a lack of water to irrigate crops across the US this year, Americans may once again find rising prices of both water and food.
You can share this story on social media: