US fracking wells annually produce 280bn gallons of toxic waste water destroying environment – report
As US public policy debates over the dangers and benefits of fracking for shale gas persist, a new report has emerged showing that the practice generated 280 billion gallons of toxic waste last year - containing cancer-causing and radioactive substances.
Fracking a single well can use between two and nine million gallons of water combined with sand and chemicals. Much of the fresh water used returns to the earth's surface, but contains radium and bromides.
"When bromide in the wastewater mixes with chlorine (often used at drinking water treatment plants), it produces trihalomethanes, chemicals that cause cancer and increase the risk of reproductive or developmental health problems," the report notes. It also found that 450,000 tons of air pollutants can potentially be produced in one year by the practice.
Environment America, who published the report on Thursday, called fracking "highly polluting" and noted increasing numbers of documented cases of illness as a result of the practice. In addition to cancer, toxic substances from fracking chemicals and waste water can cause endocrine disruption, neurological problems and immune system problems.
"The numbers don't lie — fracking has taken a dirty and destructive toll on our environment. If this dirty drilling continues unchecked, these numbers will only get worse," John Rumpler, a senior attorney for Environment America said in a news release after publication of the report.
Fracking is the extraction of oil and gas by injecting water to break rock formations deep underground. Use of the process has increased rapidly in the US in recent years, despite warnings from scientists who have studied it, illustrating the climate-damaging methane emissions and radioactive effects that come with the operation.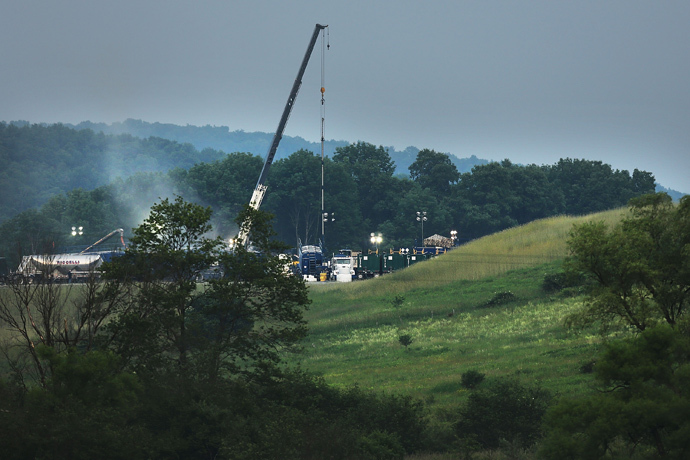 Over 80,000 wells nationwide have been drilled or endorsed across 17 different states since 2005, and the report measured that around 360,000 acres of land have been damaged as a result – the highest being in Texas where around 130,000 acres of land were calculated to have been damaged.
While this figure included land cleared for roads, well sites and pipelines, among other technical processes, the report states that "the total amount of habitat and landscape affected by fracking is much greater."
The report was hot on the heels of the publication of research from Duke University, released on Wednesday in the Environmental Science and Technology journal.

The team analyzed water and sediment samples from the Josephine Brine Treatment Facility in Indiana County, Pennsylvania, finding radium levels 200 times greater than samples taken upstream from the plant, and far higher than permissible under the Clean Water Act.
Radium is a radioactive metal that can cause diseases like leukemia and other ill-health effects, if one is exposed to large amounts over time.
As a result of uncertainty over the implications of fracking and its negative health impact, house prices have seen a noticeable decline. The report cites a Texas study which found that homes worth $250,000, located within 1,000 feet of a well site lost between three and fourteen percent of their value.
Another possible reason for the decline in property value is the threat to public safety because of the increased likelihood of earthquakes. Oklahoma, Arkansas, Texas, Ohio and Colorado have all experienced earthquakes sparked by injection well wastewater disposal.
Environment America's research expressed concern that the damage resulting from fracking was on a scale "unimagined" only a few years ago, and went on to recommend that "banning fracking is the prudent and necessary course to protect the environment and public health." The report strong advises that states take the initiative to ban the practice.
You can share this story on social media: