UK shale gas riches: Companies 'ready' to pay £100,000 to each affected community
The UK has doubled its shale gas estimates in England's north, prompting energy companies to start offering cash to communities that allow exploration, British media report. Ecologists slam the plan as a "bribe."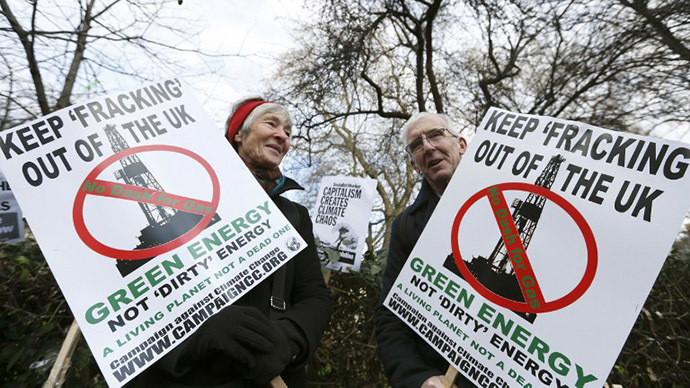 Styling the payment as "community benefits," energy companies will provide a one-off payment of £100,000 when an exploratory well is drilled, as well as one percent of revenues should exploration be successful.

If the drilling is successful, the industry is ready to pay out £1.1bn in further payments over the following 25 years, according to the Telegraph. Over the next 20 years, 100 sites could be drilled.

"It could certainly look like a bribe to a lot of communities very worried by the impact of fracking. I do not think many communities will be willing to trade what will be a relatively small amount of money for the risk," Friends of the Earth's Andrew Pendleton told the daily.

However, fears have been voiced that villages and localities might not receive the full compensation package for localized fracking procedures should they be affected. The energy companies will grant some cash payouts to county-wide bodies instead – a 'regional fund' – fuelling concerns that those suffering the direct impact of the procedure will lose out, according to Politics.co.uk

Thus, some of the compensating money could be spent on projects like the construction of a swimming pool in a nearby town, as proposed by energy minister Michael Fallon. "There will be an element that is very local to the residents that are directly affected by the drilling," Fallon said.

It was found on Thursday that Britain has doubled its northern shale gas estimates. In northern England alone, the country had 1,300 trillion cubic feet of shale gas in underground reserves, according to the British Geological Survey.

Communities will not want money for the ecological risks as noise pollution and possible earthquakes, points out Andrew Pendleton of Friends of the Earth.

On Wednesday, a newly published study also said that household drinking water that comes from wells near known fracking sites contains levels of methane six times greater than what's common elsewhere.
House prices near potential extraction points have been expected to slump.

Fracking involves blasting a combination of water, chemicals, and sand into shale rocks. While the aim is to force the rocks to release shale gas, there are some unintended side effects - the practice has already been linked to earthquakes as well as water pollution.
You can share this story on social media: