Dallas earthquakes caused by fracking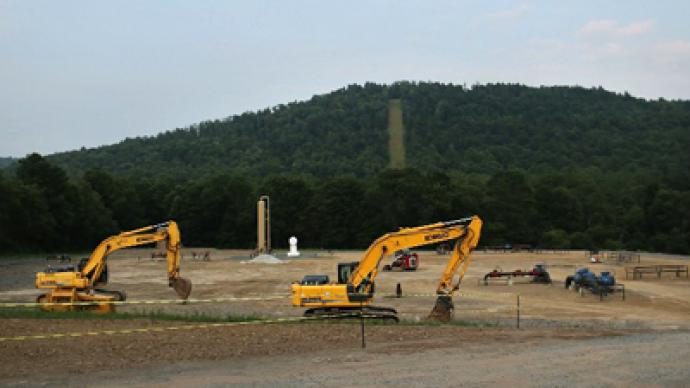 Three unusual earthquakes that shook a Dallas suburb over the weekend may be connected to fracking operations, according to a local geophysicist who has studied earthquakes in the region.
Data from the US geological survey showed the first earthquake, which hit at 11:05 pm CDT (6:05 pm GMT) Saturday, measured at a magnitude of 3.4 on the Richter scale. A few minutes later a 2nd quake measuring 3.1 struck. These were followed on Sunday by a 3rd Quake measuring 2.1.
Despite a volley of emergency calls, no injuries were reported.
Cliff Frolich, a senior scientific researcher and associate director at the University of Texas' Austin Institute for Geophysics, does not believe these quakes are a coincidence.
Before fracking began being employed on land near Dallas Fort Worth Airport in 2008, there was virtually no seismic activity in Dallas.
In a study published in the journal Proceedings of National Academy of Sciences in August 2012, Frolich found that 67 earthquakes occurred between November 2009 and December 2011 within a 70 kilometer grid where fracking occurs over the northern Texas Barnett shale formation. 24 of the earthquakes, where the epicenter could be reliably mapped, occurred within 3 kilometers of the injection wells for wastewater disposal from fracking.
Fracking – or hydraulic fracturing as it is technically known – is the extraction of shale gas and oil trapped in rock strata beneath the surface. Millions of gallons of high pressure, chemical laden water is pumped into an underground geological formation to force out oil and gas. Once fractures have been opened up in the rock and the water pressure decreases, internal pressure from the rock then forces the dirty fracking fluids back to the surface, known in the industry as 'flow back'.
This dirty water is often disposed of by pumping it back into the ground. This has led to fears that the water table will be polluted with severe health consequences.
Fracking can also be used to extract oil from a well that has already been exhausted using traditional techniques.
A similar situation to Dallas exists in California where the oil and gas industry is increasingly using fracking.
California is already one of the largest oil and gas producing states in the US and last year about a quarter of all oil and gas wells drilled were also fracked. With no regulation in place, extraction companies are rushing to frack more wells.
California already sits in a zone of high seismic activity and drought, concerning residents about how fracking could affect their water supply and increase earthquakes.
"I didn't buy here thinking this was going to happen in my backyard. I would have had second thoughts about living here," Gary Gless, a Los Angeles resident, who lives just a few miles from the Inglewood Oil Field, told RT.
When Gless and other residents moved into the area they were assured the nearby oil wells were dry and that no fracking was taking place.But following recent methane leaks they found out that PXP, the company concerned, is using fracking to extract oil.
"The foundations, I don't know what is going on under my house. If we do get an earthquake, I'm sure that with all these cracks it will probably rip it all open," Rosa Tatum told RT.
­
Wastewater
The oil and gas industry has launched a huge public relations campaign claiming fracking is safe as it's been going on for decades.
Fracking has been used in the US for 60 years, but has only really taken off in the last 7. Shale gas amounted to 4% of the country's overall gas production in 2005, while in 2012 it had risen to 24%.
Dave Quast from Energy in Depth, an advocacy group for the oil and gas industry, told RT, "The 1.2 million times that fracking has occurred in this country there has not been a single incident of reported water contamination."
PXP, which operates one of the largest urban oil fields in the country, including the one next to Gless's home, is conducting its own study into what sort of effects fracking will have on the LA neighborhood where they operate- but locals doubt it will reveal the truth
"These fossil fuel giants influence policy enormously. They spent $747 million lobbying Congress to get this Safe Drinking Water Act exemption. That is a contamination of our democracy," said Josh Fox, director of the Oscar nominated documentary 'Gasland'.
Brenda Norton, an activist with the campaigning group Food and Water Watch, told RT that fracking is happening completely unregulated in the state of California and that oil and gas companies don't have to say where they frack or what chemicals they are injecting into water and into the ground, which could possibly contaminate drinking water.
Oliver Boyd, a USGS seismologist and professor of geophysics at the University of Memphis agrees that, in general, links between wastewater injection and seismic activity are plausible.
"Most, if not all, geophysicists expect induced earthquakes to be more likely from wastewater injection rather than hydrofracking" [itself].
He continued that this is because the wastewater injection tends to occur at greater depth where earthquakes are more likely to nucleate and earthquakes are likely to occur some time (months to years) after wastewater injection has ceased.
Residents in California are worried about losing their homes , after already being forced to cope with cracked foundations and buckling roads.
You can share this story on social media: