Fort Hood massacre suspect: 'I am the shooter'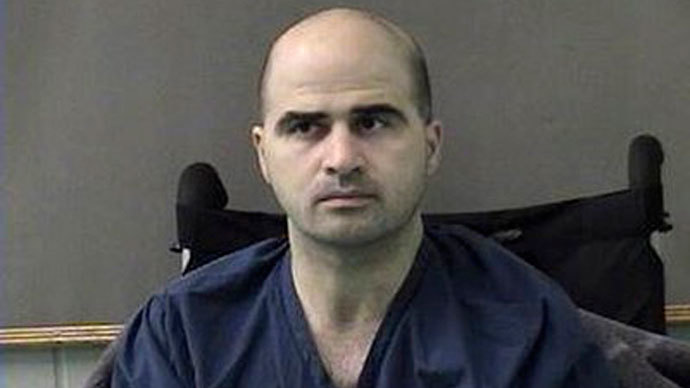 Nearly four years after 13 people were killed in a mass shooting at Fort Hood, suspect Maj. Nidal Malik Hasan is standing trial. Representing himself, the Army psychiatrist on Tuesday said "the evidence will clearly show that I am the shooter."
Hasan, a 42-year-old former Army psychiatrist, has been accused of targeting soldiers in a shooting rampage that took place at Fort Hood, Tx., on Nov. 5, 2009. And it appears that he is not about to deny it.
Acting as his own attorney during opening statements on Tuesday, Hasan told the court that the evidence will implicate him, and apologized for the shooting rampage that killed 13 and injured 30 people.
"We are imperfect Muslims trying to establish the perfect religion. I apologize for any mistakes I made in this endeavor," he said during his two-minute opening statement.
"Witnesses will testify that war is an ugly thing. Death, destruction and devastation are felt from both sides, from friend and foe. Evidence from this trial will only show one side. I was on the wrong side, but I switched sides," he added.
In previous court statements, Hasan indicated that he wanted to argue that the shooting was an attempt to defend the Taliban from American attacks, but the judge rejected the strategy. Hasan previously also tried to plead guilty to several counts of murder and attempted murder, but military rules do not allow guilty pleas in cases where the defendant could be facing the death penalty.
Prosecutors in the case against Hasan are hoping for a death sentence, and jurors are prepared for a trial that could last months. The trial will take place at Fort Hood, where shock-absorbing freight containers serve as barriers surrounding the courthouse and armed guards carrying assault rifles protect the doorways. Hasan is paralyzed from the waist down and remains bound to a wheelchair after officers shot him in response to the Fort Hood attack.
In his opening statement, military prosecutor Col. Steve Hendricks said that his arguments would show that Hasan meticulously chose the date of the attack, stockpiled bullets and researched Taliban leaders calling for jihad before launching his plan to "kill as many soldiers as he could" while avoiding civilians. He said that Hasan purposefully masked the sound of his equipment by stuffing his pants pockets with paper towels.
"All those fully loaded magazines do not clink, do not move, do not give him away," Hendricks said. "He sits among the soldiers he's about to kill with his head down…. He then yelled 'Allahu akbar!' And opened fire on unarmed, unsuspecting and defenseless soldiers."
As the trial progresses, Hasan is expected to question witnesses – including survivors of the attack – as he continues to represent himself.  Staff Sgt. Shawn Manning, who was shot six times at the Fort Hood attack, said he is dreading the confrontation.
"I have to keep my composure and not go after the guy," Manning told AP. "I'm not afraid of him, obviously. He's a paralyzed guy in a wheelchair, but it's sickening that he's still living and breathing."
You can share this story on social media: