Fort Hood shooter was on anti-depression medication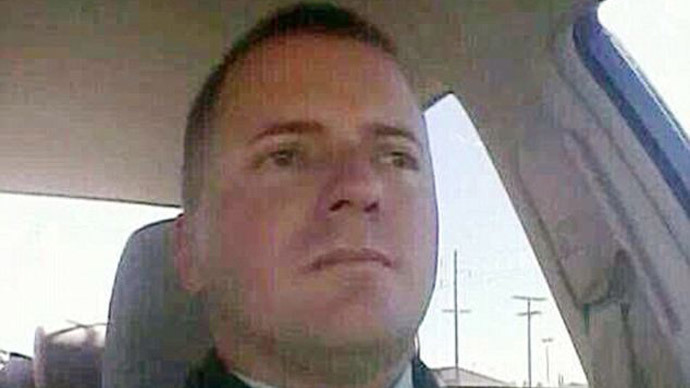 The Iraq War veteran who opened fire at Fort Hood on Wednesday, killing three people and injuring 16, was being treated for mental health issues and being evaluated for post-traumatic stress disorder, the Associated Press reports.
Identified as Spc. Ivan Lopez by Lt. Gen. Mark Milley, Ft. Hood's commanding general, the Army veteran reportedly walked into one of the area buildings with a .45 semi-automatic handgun and started shooting. He kept firing even as he used a vehicle to make his way to another building, where the gunfire continued.
When military police confronted him, Lopez put his hands into the air before pulling out his gun from his jacket and shooting himself in the head.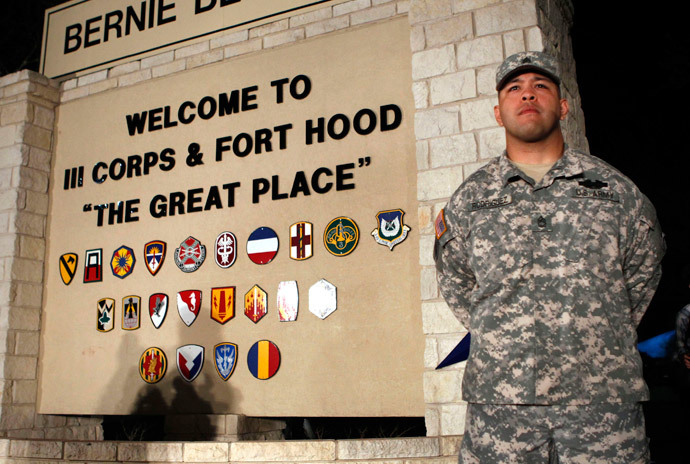 According to the AP, an investigation into the gunman's mental health background was initiated immediately after the violence ended. Part of the probe will also focus on the possibility that a fight or argument triggered the shooting.
"We have to find all those witnesses, the witnesses to every one of those shootings, and find out what his actions were, and what was said to the victims," a federal law enforcement official said to the AP on condition of anonymity.
In a press conference Wednesday evening, Lt. Gen. Mark Milley confirmed that the shooter was being treated for numerous health issues after being transferred to Fort Hood in February. Lopez was also being evaluated for post-traumatic stress disorder in connection to his four months spent in Iraq in 2011, though he had yet to be officially diagnosed.
There was strong evidence that the shooter had a medical history that indicated an unstable psychological condition, said Milley. There was a "strong possibility" that a verbal altercation with another soldier had preceded the shootings, he added, although there was no indication specific people had been targeted in the shooting. Lopez had been prescribed anti-depressants and the sleep aid medication Ambien.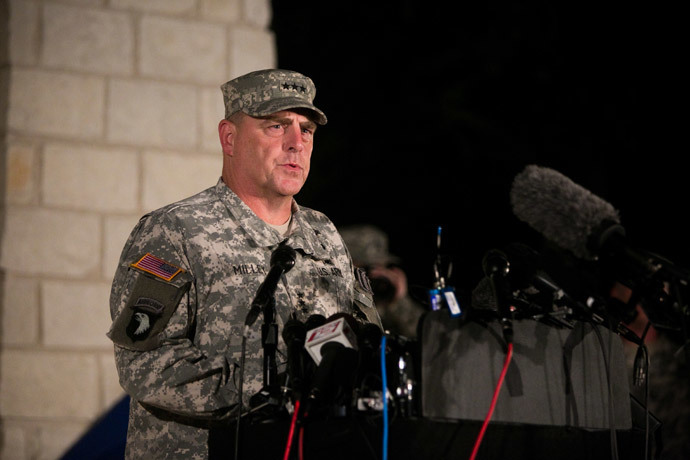 "Obviously, we are digging deep into his background," Milley said to ABC News. "He was undergoing behavioral health, psychiatric treatment for depression and anxiety and a variety of other psychological and psychiatric issues. ... He was not diagnosed, as of today, with PTSD, he was undergoing a diagnosis process to determine if he had PTSD. That is a lengthy process."
Milley also confirmed that he was being treated with anti-depressant medication, though it is unclear if that was responsible for any violent or suicidal thoughts. As RT noted on Wednesday, there were reports of the man complaining about a traumatic brain injury that occurred while he was in Iraq. According to a recent tweet by the AP, however, the Army secretary said the shooter "saw no combat in Iraq, was not wounded."
BREAKING: Army secretary says Fort Hood shooter saw no combat in Iraq, was not wounded.

— The Associated Press (@AP) April 3, 2014
The Washington Post reported that the gunman was married and living in the Fort Hood area before the shooting spree occurred, but neighbors said the family did not interact with many people.
"He was the kind of person that even if you tried to talk to him wouldn't open up," neighbor Jessie Brown said to the newspaper.
Family members were not aware that Lopez was receiving treatment for mental issues according to their spokesman, Glidden Lopez Torres.
"He was a very laid-back person. I would even say a bit shy," Torres said. "That's why we are so surprised."
This was the second shooting at Fort Hood since 2009, when an Army psychiatrist killed 13 people and injured 32 others. He was convicted and sentenced to death in August 2013.
Speaking shortly after the most recent violent outbreak, President Obama made the connection to the previous incident.
"We know these families. We know their incredible service to our country and the sacrifices that they make," he said, according to ABC. "Obviously, our thoughts and prayers are with the entire community, and we are going to do everything we can to make sure the community of Fort Hood has what it needs to deal with a tough situation, but also any potential aftermath."
You can share this story on social media: