Notorious Florida pastor arrested en route to Koran-burning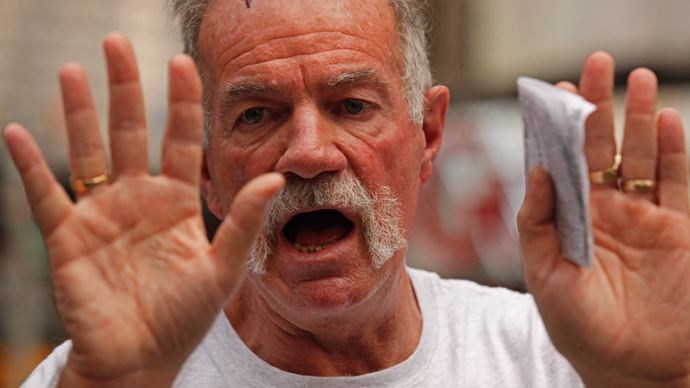 A controversial Florida pastor who has made headlines worldwide for repeated threats to publicly burn copies of the Koran has been arrested with thousands of kerosene-soaked copies of the Muslim holy book in his possession.
Terry Jones announced last month that he intended to set thousands of Korans ablaze in rural Florida to mark the 12th anniversary of the September 11 terrorist attacks. He said he would burn 2,998 copies of the holy book, one to commemorate every American killed in the tragic attack. Jones threatened a similar stunt in 2010 but called it off after US President Obama and other leaders warned of the potential implications throughout the Middle East. 
"The radical hand of Islam shows itself with violence against anyone who dares to stand up and speak the truth," read a press release from Jones' organization. "We at Stand Up America Now will not back down. We will not be silent." 
But the plan, which drew the ire of the small Florida community of Mulberry, quickly unraveled when Jones – unable to secure permit – declared he would burn the Korans anyway in a Polk county public park. 
The Gainesville-based preacher was arrested en route to the park when police found the Korans already in a barbecue grill in the back of Jones' truck, according to the local ABC affiliate. Both Jones and Wayne Sapp were charged with unlawfully transporting fuel while Jones was charged with openly carrying a firearm. 
Sapp's wife declared that the arrests were "a very dangerous sign to us, as Americans, as citizens, and to the First Amendment." 
A Polk County spokesperson told WTSP 10 News in Tampa that Jones, 61, filed for a facilities permit last Thursday, too short a time for the county to conduct a review and grant a permit. 
"He must have the facilities use permit in order to have that type of event in a county park." said Mianne Nelson. "We responded to his email asking where he was planning to have his event in the park because it is a large park, but he did not respond back to us." 
Terry Jones is arrested on his way to burn 3,000 kerosene-soaked Qurans in Mulberry. http://t.co/gfoap7ytjwpic.twitter.com/VKBfFH06cx

— The Ledger (@theledger) September 11, 2013
Jones said he was willing to be arrested for his cause, although the surrounding region has not been as passionate. His announcement that Mulberry would be the destination provoked anger and embarrassment through much of the community.
"Why would you come to little Mulberry, that is peaceful and diverse?" resident Suzanne Carter-Moore told WTSP last month. "We like it that way, and why come to our town and stir up the pot of hate and division?" 
Mulberry Mayor George Hatch told reporters after Jones' arrest he hoped "the world will not judge our community from the actions of one man who is not from here."
You can share this story on social media: