'US should be held accountable': Hezbollah chief calls for mass protests over Muhammad film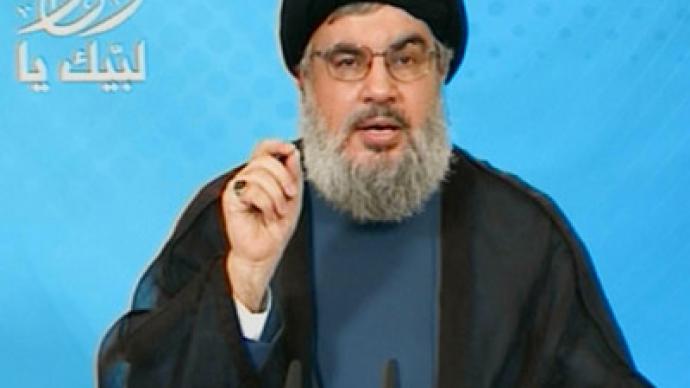 Hassan Nasrallah, the head of Lebanese political party Hezbollah, has called for a week of mass protests to express anger over the Islamophobic film that has already caused an uproar across the Muslim world.
­In a televised speech, Nasrallah said that the US must be held accountable for the film – a formerly obscure, low-budget production quickly condemned by the Obama administration that continues to circulate the Web under various titles including "The Innocence of Muslims." The film portrays the prophet Mohammad as a philandering child molester, and in one clip he is shown in a sexual act with a woman. Many Muslims consider any depiction of their prophet – let alone in such an inflammatory manner – to be extremely offensive."We should not only express our anger at an American embassy here or there," Nasrallah noted, calling on protesters to push their leaders to express their anger, saying it is their "responsibility" to ensure that the Koran, Muslim holy places and the Prophet Muhammad are "respected" in the United States and the world.Nasrallah described the film as the "worst attack ever on Islam, worse than the Satanic Verses by Salman Rushdie, the burning of the Koran in Afghanistan and the cartoons in the European media." "There should be resolutions adopted in top international institutions, which are binding on all states and governments in the world, to forbid the defamation of religions," he continued. He also pointed the finger at the US government, which he claimed used the freedom of speech guaranteed by the American Constitution as an excuse to justify the continued broadcast of the film. "All these developments are being orchestrated by US intelligence," he said.Nasrallah called on all people across the Islamic world to demonstrate against the film. "The whole world should know that the prophet has followers who will not be silent in the face of humiliation. The whole world needs to see the anger on your faces, in your fists and your shouts," he said. He also called for demonstrations across Lebanon. Fury over the film has torn through the Middle East and North Africa in recent days, where protesters have attacked US embassies and burnt American flags, while the US Ambassador to Libya and three of his staffers were killed in an attack on the US Consulate in Benghazi last Tuesday. A demonstration in Lebanon on Friday left one person killed and at least 24 wounded as the protesters burned down a restaurant belonging to US-based chain KFC and clashed with police.
You can share this story on social media: