Florida pain patients become collateral damage during war on drugs
Published time: 16 Aug, 2013 17:18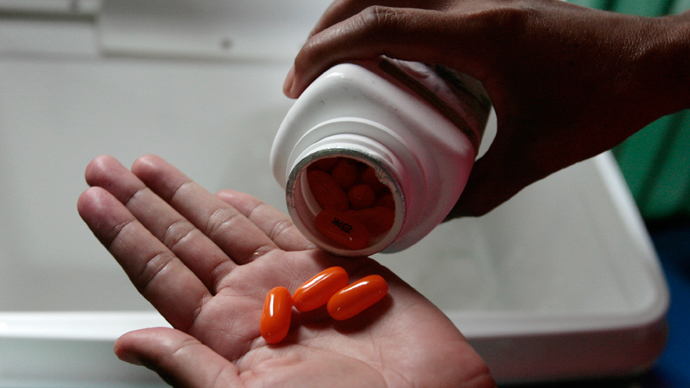 To crack down on Florida's prescription drug black market, regulators have limited supplies and made opioids difficult to obtain. But patients with painful medical conditions are suffering from the crackdown too, often left without the drugs they need.
For years, Florida's relaxed regulations on prescription drugs turned the state into a black market for synthetic opioids, which caused 16,625 deaths and 420,000 emergency department visits in 2010. The Sunshine State was home to 90 of the country's 100 top pharmacies buying oxycodone in 2010, which often made their way into the hands of prescription drug dealers.
To combat prescription drug abuse, the state has tightened drug regulations, limiting the supply of pain medication that pharmacies and drug distributors are allowed to have in their inventory and making it more difficult for patients to obtain them.
Meredith Diaz, a 35-year-old mother who suffers from lupus, told Bloomberg News that she has trouble obtaining OxyContin, roxycodone and Xanax, which her doctors regularly prescribe to help control her pain and anxiety. The Tampa resident has herniated discs in her back, a knee that will soon need to be replaced and clinical anxiety. She fears the day that her drug supply will be cut off and said her life is much more difficult without her medicine.
"Regulation is fine, but truly making the pharmacists not able to get the medication can't be the answer," Diaz said. "There shouldn't be this apprehension about how I'm going to get my medicine."
Colleen Sullivan, a 29-year-old muscular dystrophy patient, said she lives in Marathon – a small town in the Florida Keys that only has a few pharmacies. When these drug suppliers run out of the medicine she needs, she is forced to travel across the state to find a pharmacy that will fill her prescription. Pharmacies refuse to tell her over the phone whether or not they have a supply on hand.
Paul Doering, a professor emeritus at the University of Florida College of Pharmacy, told Bloomberg that pharmacists often judge patients based on their appearances, which affects whether or not they will fill their prescriptions.
Federal officials first began cracking down on the black market in 2009. Since then, 59 Florida doctors have been charged for illegally prescribing painkillers, and a joint federal and state task force has made 2,150 arrests related to prescription drug sales.
In June, Walgreen Co., the nation's largest pharmacy operator, paid the Drug Enforcement Agency an $80 million settlement to resolves charges that it failed to control its sales of narcotic painkillers. As a result of its efforts, the amount of oxycodone sold in the state of Florida decreased by 97 percent from 2009 to 2010. Deaths related to oxycodone decreased by more than 17 percent, and the number of "doctor shoppers" has decreased by 58 percent since authorities began cracking down on "pill mills" in 2011, AP reported in June.
Although the regulations are effectively curbing prescription drug abuse, they are also taking a toll on the well-being of patients with painful medical conditions and valid prescriptions.
"It's a very unhappy existence, but as a mother of three kids you don't want to look unhappy," Diaz said. "So you put on a façade. If I don't have that medicine my life gets even harder."