Big Pharma made $711 bln overcharging seniors and disabled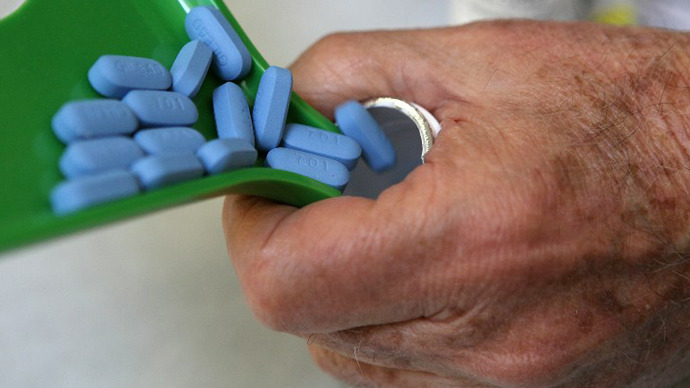 The 11 largest drug companies have made $711 billion in profits in just a decade, largely due to overcharging Medicare, which does not seek out competitive prices and uses taxpayer funds to support Big Pharma.
Since Medicare is prohibited from purchasing drugs based on their cost, its prescription drug program has been making large payouts to drug companies that have overcharged the program for years, according to an analysis by Health Care for America Now (HCAN).
"There is nothing wrong with a company making profits – that's what their supposed to do. But the drug industry's profits are excessive as a result of overcharging American consumers and taxpayers," writes Ethan Rome, executive director of HCAN, for the Huffington Post. "We pay significantly more than any other country for the exact same drugs."
Rome notes that per capita drug spending in the US is 40 percent higher than in Canada, 75 percent greater than in Japan, and nearly 300 percent greater than Denmark.  
The 11 largest global prescription drug companies have skyrocketed since the Medicare Part D prescription drug program was launched in 2006. The government health program enables seniors and the disabled to buy taxpayer-subsidized coverage for many of the most widely disseminated medicines. But Medicare is prohibited from negotiating prices with pharmaceutical companies or seeking out more cost-effective drugs, thereby costing seniors, the disabled and American taxpayers billions of dollars more than some argue the drugs are worth.
Some lawmakers have recently urged Congress to consider changing the law, for the sake of cutting unnecessarily high costs. Wisconsin Democratic State Senator Jon Erpenbach told Wisconsin Public Radio that his state could save $1.2 billion over ten years if Congress were to allow Medicare to partake in prescription drug negotiations.
"I understand that pharmaceutical companies are for-profit companies," he told the station last week. "I understand there's a lot of research and development that goes into the products that they produce. All of that being said, it shouldn't cost us more to get that kind of pharmaceuticals we need to have."
But according to the HCAN analysis, Big Pharma spends very little on research and development. Even though pharmaceuticals cite research as a costly part of its operations, the money spent on this is exaggerated, Rome claims. Drug companies spend 19 times more on marketing than on research and development – another reason why the industry reaps so much in profits each year, he adds.
US President Barack Obama has long promised to repeal the prohibition on Medicare negotiations with drug companies, but has so far failed to do so. The Veterans Administration currently negotiates drug prices, and manufacturers argue that letting Medicare take over the negotiations would make no difference to the industry. Supporters of drug manufacturers also continue to emphasize the high costs of research and development.
But the Congressional Budget Office found that if Medicare were to receive the same bulk-purchasing discounts on prescription drugs that state Medicaid programs receive, the federal government would cut its spending by $137 billion over 10 years.
"Our politicians give all kinds of tax breaks and subsidies to big corporations that don't need them: Big Oil. Wall Street. Companies that ship our jobs overseas," Rome writes. "Every gift to a special interest, including allowing Big Pharma to overcharge Medicare, is an expenditure of scarce tax dollars. That's called wasteful spending."
You can share this story on social media: