California firefighters accused of drunk-driving, crashing truck into motorcyclist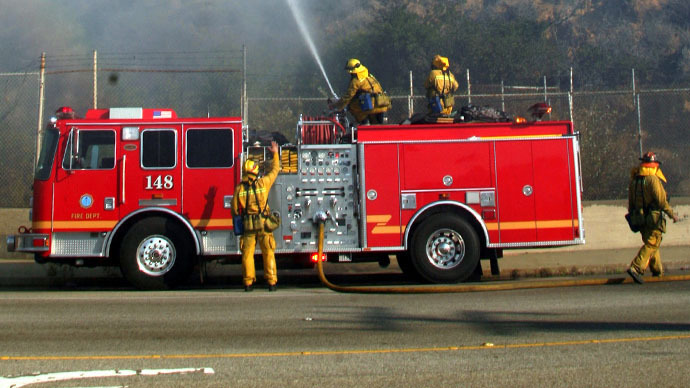 Five members of the San Francisco Fire Department are facing possible suspensions in connection with an incident in which a firefighter suspected of driving while drunk crashed a fire truck into a motorcyclist.
According to the San Francisco Chronicle, unnamed sources have told the paper that Fire Chief Joanne Hayes-White has informed two assistant chiefs – Art Kenney and Dave Franklin – that they are looking at possible 10- and eight-day suspensions for their handling of the crash scene when the accident occurred. Battalion Chief Mark Hayes, who was also at the crash site, faces a four-day suspension.
The incident took place in June, when firefighter Michael Quinn struck motorcyclist Jack Frazier with his truck, knocking the man into a fire hydrant. Frazier suffered from a collapsed lung and broken bones, which his attorney says he is still recovering from.
Quinn was told to remain at the scene of the crash and await a drug test, but he allegedly left and headed to a nearby bar. He was reportedly accompanied by a fellow firefighter and surveillance footage shows Quinn drinking large amounts of water before returning to the station hours later and submitting to the test, which showed his blood-alcohol level well above the legal limit.
The Fire Department has a zero-tolerance policy for drinking while on duty. Quinn resigned recently but faces possible criminal charges, pending the results of a police investigation.
Firefighters Warren Der and Matt Schwartz are reportedly facing suspensions of 30 days, though the Fire Commission is required to approve any penalty beyond 10 days. Der helped Quinn operate the truck, and was allegedly with Quinn at the bar after the crash occurred. Schwartz is the commander of the truck Quinn was driving.
Hayes-White declined to comment on the suspensions, but she did say that allegations of a cover-up were false.
"What has been alleged is that it was a cover-up," she said. "I don't believe that there was a cover-up that evening, nor did the administrative investigation that we conducted indicate that.
"Could there have been other, perhaps better decisions that night? Yes."
Frazier's attorney, Chuck Koro, has filed a lawsuit against the city of San Francisco and Quinn in an attempt to stop any and all drinking that goes on at the fire department. He told NBC Bay Area that a grand jury report from 2004 showed drinking at fire houses was a common occurrence.
"I'm confident it's a minority of firefighters, but it all has to end," Koro said.
...
You can share this story on social media: