AR-15 rifle left with 'friend' could lead Florida cop to ninth dismissal
Published time: 3 May, 2013 19:56
Edited time: 3 May, 2013 20:35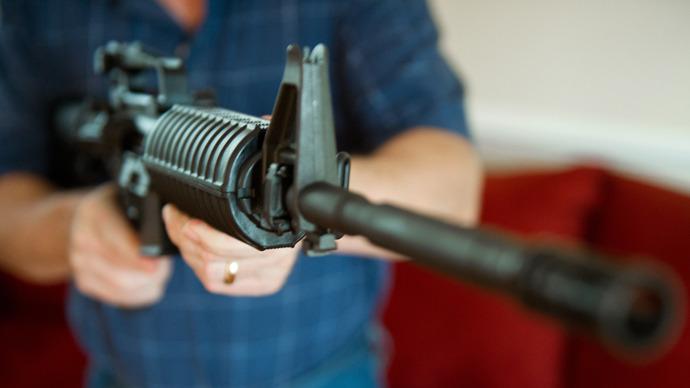 Florida Police Sgt. German Bosque has been fired eight times by three police departments, the latest of which is trying to fire him for the sixth time for leaving his AR-15 assault-style rifle with a friend.
The Miami-based officer has previously been dubbed "Florida's Dirtiest Cop" for being the most disciplined, arrested and fired officer in the state. In the latest incident, the Opa-Locka Police Department is arguing that Bosque should be fired for leaving his assault-style rifle with his girlfriend's father while he was on leave for eight days.
During a hearing held Wednesday, Bosque's attorney argued that the rifle was in good hands, since the girlfriend's father was a licensed security guard. But city attorney Joe Geller argued that it is no small matter to leave a city-owned, 30-round assault rifle with someone else – especially since the weapon resembles the one used to conduct the Sandy Hook Elementary School Massacre in December.
"We're here on a very simple matter," Geller told CBS4. "It's going to be up to the arbitrator. We think what the officer did was wrong."
Previously, Bosque has fought numerous allegations, some of which have led to previous terminations. He has been accused of beating juveniles, falsifying reports, calling in 'sick' from Cancun, having busted the skull of a handcuffed suspect, having drugs and alcohol in his squad car, and participating in an unauthorized police chase in which four people were killed. He was also accused of stealing a car, trying to board an airplane with a loaded gun, and driving with a suspended license. Police have already investigated Bosque 40 times, 16 of those for battery or other violent crimes, according to a Huffington Post report from early 2012.  
But because these were allegations and not convictions, Bosque has received more second chances than any other police officer in Florida. After receiving his latest chance to continue working for the Opa-Locka Police Department, Bosque signed a deal agreeing that one more strike against him would be his last.
After the Miami Herald published a 2012 article describing the number of times Bosque has been investigated for misconduct, the 18-year-veteran "lit up".
"I can't believe that," he told the paper. "I'm not trying to smile. I just… damn!"
But the city is now arguing before a court that leaving his assault rifle with someone else qualifies as the last strike. Police department officials say the gun should have been left in Bosque's own home or at the police station while he was on vacation.
The arbitrator, Jeanne Wood, will determine if his carelessness is worthy of his sixth and last dismissal from Opa-Locka, and eighth dismissal of his career. A decision regarding the case will be made in 60 to 90 days. Bosque is fighting the latest allegation and continues to proclaim how much he loves his line of work.
"I love serving the community. I love what I do for a living and I'm very proud," he told CBS4. 
"I'm not ashamed of anything, not ashamed of anything at all," he previously told the station. "I'm very proud of the policeman that I am."