Police captain kills man for texting at movies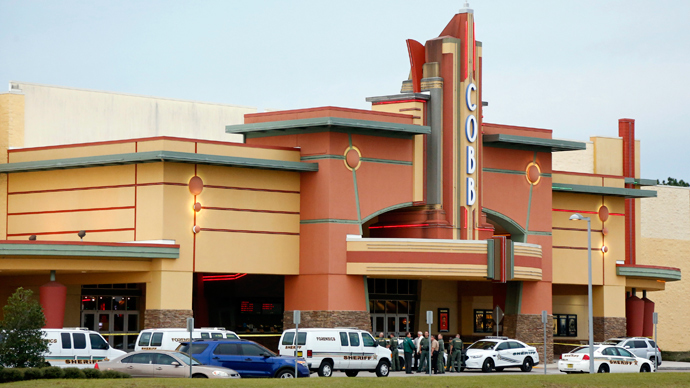 Retired police captain Curtis Reeves killed a moviegoer after using his gun during an argument over texting during the film, officials said.
"Somebody throws popcorn. I'm not sure who threw the popcorn," said Charles Cummings, a witness to the shooting which occurred Monday afternoon during a screening of "Lone Survivor" at The Grove 16 Theater in Wesley Chapel, north of Tampa.

"And then bang, he was shot," Cummings told the AP.

Seventy-one year old Reeves was charged with second-degree murder.

Reeves had apparently asked 43-year-old Chad Oulson to stop texting. Oulson refused, prompting Reeves to seek out theater staff. However, Reeves returned without them after a few minutes, seeming to be upset. The argument resumed, with Oulson becoming agitated that management was sought out to handle the situation, after which popcorn was thrown and Reeves opened fire.

Oulson received a bullet wound to the chest and later died in hospital. His wife, Nichole Oulson, sustained a hand injury from the same shot after she placed her hand on her husband during the confrontation.

"Blood started coming out of his mouth," said Cumming's son, Alex. "It was just a very bad scene."

Oulson had explained to Reeves that he was exchanging texts with his 3-year-old daughter during the confrontation.

"It ended almost as quickly as it started," sheriff's spokesman Doug Tobin told the agency. The sheriff's office added that an off-duty deputy detained Reeves for the shooting until police arrived.
In an arrest report later obtained by FoxTampaBay, it emerged that Reeves, who had been using a .380 semi-automatic handgun claimed that "he was in fear of being attacked" and that "the victim turned and stood up, striking him in the face with an unknown object."
Witnesses "did not observe any punches being thrown."
It did not immediately emerge publicly that a former police officer was responsible for the assault, and no information had immediately been released as to the condition of the two unidentified victims who were immediately hospitalized.
Tampa Police spokeswoman Laura McElroy stated in a release that Reeves had been instrumental in establishing the agency's first tactical response (SWAT) team.
You can share this story on social media: