Off-duty Baltimore cop shoots woman, takes child hostage before SWAT standoff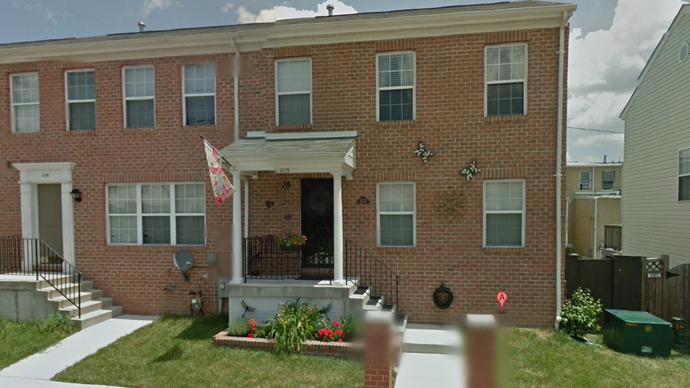 An off-duty Baltimore police officer, described as a 20-year veteran with tactical training, barricaded himself at a house after allegedly shooting a woman, now at a local hospital in serious condition. A child was later taken from the home by police.
The suspect, identified by police as James Smith, is holed up at a home on the West side of the city. SWAT members arrived at the scene several hours ago, and had removed a woman from the scene before paramedics arrived. Her clothing was seen to be covered in blood. Police reported several hours later that the victim, who's identity was not disclosed, had succumbed to her injuries and died.

SWAT members then returned to the barricaded site. At 6:40 pm Eastern Time Baltimore police tweeted that negotiators were working to try and peacefully resolve the situation. At 8:17pm EST, Baltimore Police tweeted that the child still inside the home had been safely taken to a safe location.
Update: The child is no longer in the residence on Parrish Street and has been taken to a safe location.

— Baltimore Police (@BaltimorePolice) May 8, 2013
Photos from the barricade situation in West Baltimore: bsun.md/18sr9Qh | twitter.com/baltimoresun/s…

— The Baltimore Sun (@baltimoresun) May 7, 2013
Earlier, Baltimore Police Commissioner Anthony Batts had told reporters that the main concern was for the toddler still believed to be inside the home with Smith.
"The concern I have right now is slowing this scene down and making sure we get the child out safely," Batts said.

UPDATE - For safety of emergency workers, certain operational details of barricade situation can not be disclosed.

— Baltimore Police (@BaltimorePolice) May 7, 2013
By 9:30pm ET, Baltimore police officers were able to convince Smith to peacefully surrender without further incident.
"We just gave it time. We gave it time, we had our psychologists speaking with him, trying to clam him down," Batts told media.

"We were very happy he released the toddler, the 4-year-old. We have a young lady who lost her life. That's the biggest focus right now," he added.
Smith was taken into custody on Tuesday night, pending charges.