85 people reportedly injured after ferry crashes into New York pier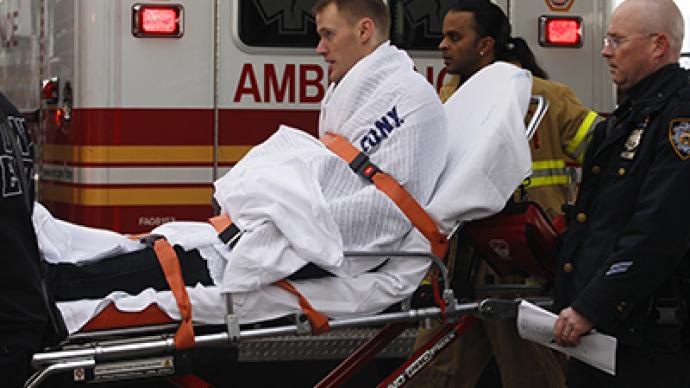 Eighty-five people were injured, at least 11 of them seriously, after a high-speed ferry crashed into a New York pier.
A commuter ferry from New Jersey made a hard landing while docking in lower Manhattan during the Wednesday morning rush hour. A corner of the Seastreak Wall Street ferry was torn open after  it struck a loading barge extending from the pier used to let passengers on and off the vessel.Passengers aboard the ship said scores of people who had stood up in preparation to disembark were flung to the deck."We were pulling into the dock. The boat hit the dock. We just tumbled on top of each other. I got thrown into everybody else. … People were hysterical, crying," passenger Ellen Foran, 57 said.Firefighters carried the injured off on flat-board stretchers, their heads and necks immobilized. Others were taken away in wheel chairs. One person received severe head trauma after falling down the stairs. Around a dozen passengers strapped to stretchers were spread out on the dock, with emergency workers tending to them. More than 340 passengers and crew members were aboard the ferry, which had arrived from Atlantic Highlands, a section of the Jersey shore still reeling from Hurricane Sandy.The ferry's captain passed a breathalyzer test, and was waiting on the results of a drug test. Such examinations are routine Coast Guard affair in such incidents, and so far there are no allegations of the captain being under the influence. A cause for the crash has not yet been determined. Weather was normal in New York on Wednesday morning. The ferry, built in 2003, had recently undergone a major overhaul, though officials said it was too early to tell if that played any part in the crash.Passengers provided local news outlets with photographs showing shattered glass and other damage aboard the 130 foot long, 30 foot wide vessel.
Passenger Richard Correra described the tumultuous scene to a local CBS affiliate."All of the sudden, the boat felt like it smashed into a wall," he told WCBS-TV. "Dozens of passengers got thrown out of their seats, got thrown forward. Some were heading downstairs and just flew down the stairs and hit their heads on various polls and walls."Chris Avore, a passenger on the ferry, told ABC news it was like being in a car crash."Almost no one knew what was going on," he said.Ferries are a common means of mass transport for commuters coming to Manhattan Island, which is separated from the rest of and New York City and New Jersey by several rivers.Authorities have been working to expand New York City's ferry service in recent years, and accidents are a relatively rare occurrence.
You can share this story on social media: