60 Myanmar refugees missing, 50 rescued after boat sinks (PHOTOS)
Published time: 7 Nov, 2012 07:48
Edited time: 8 Nov, 2012 03:04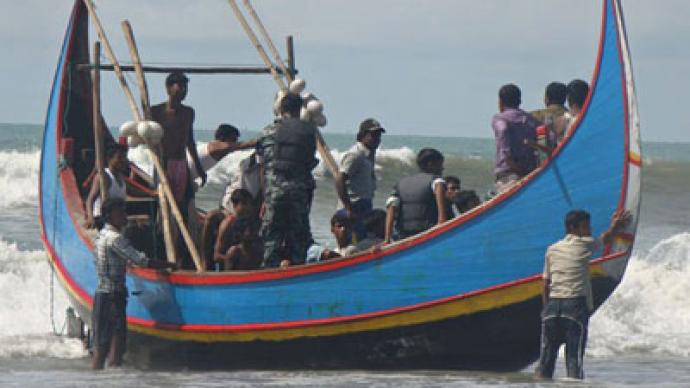 At least 60 people remain missing after an overloaded boat carrying migrant workers capsized in the Bay of Bengal, close to Bangladesh's southeastern border with Myanmar. Another 50 people have been rescued.
The vessel was reportedly carrying 100 migrants, mostly Rohingya Muslims, to Malaysia when it sank early Wednesday. The boat was about 15 kilometers off the coast when the incident took place.
Border commander Lt. Col. Zahid Hossain said that most of the survivors were rescued by local fishermen, but they had left the scene immediately, being afraid that they would be detained for their attempts to illegally enter Malaysia.
Survivors said they were traveling to look for jobs in Malaysia.
Rohingyas are Muslim of Bengali extraction; some 800,000 of them currently reside in Myanmar's western province of Rakhine. They are a stateless, persecuted minority in the predominantly Buddhist nation, and often seek refuge outside the country.
On October 28, a boat carrying Rohingya refugees sank in the Bay of Bengal en route to Malaysia. As many as 135 passengers are believed to have drowned in the incident.
Rohingya refugees, who survived after their overloaded boat heading to Malaysia sank, walk onto the beach following their rescue by Bangladeshi border guards in Teknaf.(AFP Photo / STR)
­
Rohingya refugees, who survived after their overloaded boat heading to Malaysia sank, are seen under the custody of Bangladeshi border guards (background, standing) at a beach in Teknaf.(AFP Photo / STR)
­
Bangladeshi onlookers watch from the beach after a boat carrying Rohingya refugees heading to Malaysia sank off the coast in Teknaf.(AFP Photo / STR)