FEMA ignores town, ravaged by tornadoes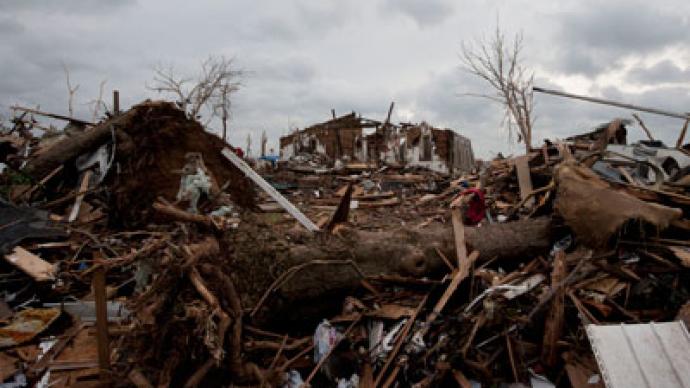 Tornadoes ripped through Cordova, Alabama in April 2011, killing 250 people and demolishing thousands of homes and businesses. A year and a half later, without money to fix it up, the damaged town still looks like the tornado struck just yesterday.
The Federal Emergency Management Agency (FEMA) had promised the small town, which has a population of just over 2,000, that it would provide the money needed to tear down the damaged buildings. But after waiting for a year and a half, city residents are growing increasingly frustrated with the crumbling aftermath of the devastating tornadoes.With broken glass littering the streets, roofless buildings barely still standing, and the downtown area sealed off by a chain-link fence and considered unsafe, it appears as if the tornadoes just recently ravaged Cordova. Thousands of homes and businesses were destroyed and the tornadoes, which struck last year on April 27, left $1 billion in damages.FEMA has made endless requests for documentation of the damage, but has still not provided the necessary funds. Cordova officials are asking for an estimated $933,000 to demolish the structures."It's very frustrating," Mayor Drew Gilbert told the Associated Press. "You would think it's been touched and seen now by everyone who needs to touch and seen it."Elizabeth Brown, preservation officer for the Alabama Historical Commission, said FEMA has never provided information as to when they would begin the much-needed demolition process of the ruined buildings.In response to questions from AP, FEMA officials said they are meticulously gathering the details of the damage before providing the money, which is a time-consuming process."This project involves demolition of multiple historically significant structures and requires that FEMA consider all pertinent environmental and historic preservation laws before funding the project," the agency said.The neglect has taken a toll not just on homeowners who lost their property, but also on the local economy and employment opportunities. The damage wiped out businesses, leaving few jobs for residents to work. Only schools, one bank, a pharmacy and a health clinic are open for employment. The town's only grocery store was destroyed by the twisters. But unless the skeleton buildings are demolished, no new structures can take their place.FEMA recently told city officials that their review of the city will be finished by Jan. 4, according to Cordova Fire Chief Dean Harbison. But the funding for the demolition likely won't granted until the two-year anniversary of the tornado strike passes."Our entire economy is gone, and it's like they're just doing nothing," Mayor Gilbert said.Meanwhile, FEMA announced Monday that it has provided $500 million to disaster areas ravaged by Hurricane Sandy, 10 percent of which went to individuals and families in Staten Island. The death toll due to the Alabama tornadoes was more than twice the death toll due to Sandy, but residents in this small town said they felt forgotten just a few weeks after the disaster. Cordova officials have asked for less than $1 million, but it may take them many more months before FEMA hands it over.