Fed hints at quantitative easing 3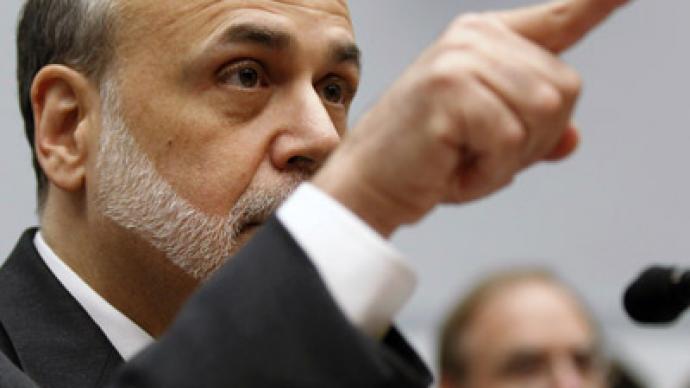 Another round of quantitative easing could be right around the corner: upon concluding the latest meeting of the US Federal Reserve, some of the central bank's top figures forecast that they may need to implement QE3.
Citing a continuously stagnant jobs report and a seemingly perpetually perturbed international economy, members of the Fed say that a third run of quantitative easing — yet another round of bond purchasing — could be in the cards for the country's central bank. The Fed is unlikely to formally make a decision either way until there next meeting wraps up on August 1, but some members of the bank are announcing on the heels of their latest get together that the option is still on the table.Last week, Federal Reserve Chairman Ben Bernanke said to the US Congress, "We are looking very carefully at the economy, trying to judge…whether or not the economy is likely to continue to make progress towards lower unemployment." If a positive outlook didn't appear in the cards, warned Bernanke, the bank would "obviously…have to consider additional steps."Only days later, San Francisco Federal Reserve President John Williams tells the Financial Times in a sit-down that the chairman's warning wasn't just an empty threat. Upon being quizzed to come up with a solution as America economists continue to forecast a fiscally weak future, Williams says to FT that a continuation of current trends "would argue for further action," but fell short of singling out QE3 as the be-all and end-all solution.During his report to Congress last week, Bernanke said the Fed was examining whether or not "the loss of momentum we've seen recently is enduring, and whether or not the economy is likely to continue to make progress," calling the speed of reversal for the grim unemployment figures "frustratingly slow." Last August, Bernanke called the road to recovery "much less robust" than the Fed had hoped for, and at the beginning of 2012 warned that "we need to be thinking about ways to provide further stimulus if we don't get improvement in the pace of recovery and a normalization of inflation." Although jobs figures have taken a turn for the better — albeit only slightly — the chairman has been clear for over a year now that QE3 is becoming more and more likely. "Households remain concerned about their employment and income prospects and their overall level of confidence remains relatively low," Bernanke said last week. A year earlier, he called the jobs problem "a national crisis" and warned that a reversal would be necessary for the sake of America's economic future.Bernanke hinted at QE3 once again last week, saying that "the logical range" of solutions would be initiative some sort of purchase program.
You can share this story on social media: