Markets slump following announcement from the Fed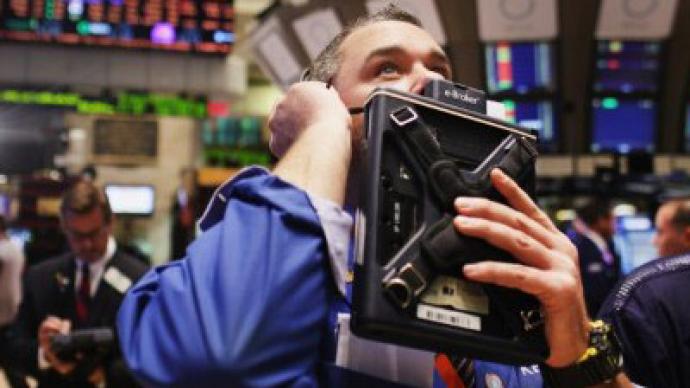 A day after the Federal Reserve predicted a continuation of the current economic strife, markets across the globe dropped sharply after opening this morning.
The Fed announced Wednesday afternoon a $400 billion plan that they believe will help stimulate the housing market and the economy in general. At the same time, however, the Federal Reserve offered a statement in which they said, "Recent indicators point to continuing weakness in overall labor market conditions, and the unemployment rate remains elevated." While the Fed's "Operation Twist" stands a chance at revitalizing economic conditions, investors worldwide are clearly weary, as reflected in this morning's markets. World stocks slumped four more than 4 percent early Thursday and the US dollar surged to a seven-month high. The Dow Jones Industrial Average, Standard & Poor's 500 Index and Nasdaq Composite all saw drops today as well. By 11:30 am ET, the DJIA had shown a drop of 372.40, or roughly 3.35 percent.The DJIA closed on Thursday at 10,734.05, showing a drop -390.79, or -3.51 percent.As part of "Operation Twist," The Federal Reserve intends on ditching short-term debt in exchange for longer-term Treasuries, hoping investors will look towards riskier markets to stimulate the economy. The move, said the Fed, comes as a result of "significant downside risks" that the US economy is facing. The warning from the Fed comes days after the International Monetary Fund cautioned the United States that America's economic outlook does not look favorable, resulting in experts worldwide to call for a double-dip recession. As conditions worsen in the eurozone, economists suggest that a domino effect could crumble the US economy should matters worsen across the pond. "The storyline is that global growth is decelerating," Mike Ryan of UBS Wealth Management Americas told Bloomberg News today. Days earlier, Olivier Blanchard of the IMF told reporters in Washington that many insiders already say the crisis in Europe had gone out of control and said the conditions should be a "call to arms" for the rest of the world economies. "When you look at what's been happening in Greece … it ought to send a real signal to the American people that the best thing we can do to help our economy right now is to get our debt under control," Speaker of the House John Boehner added to Fox Business Network.