​Mass production of placenta stem cells gets FDA approval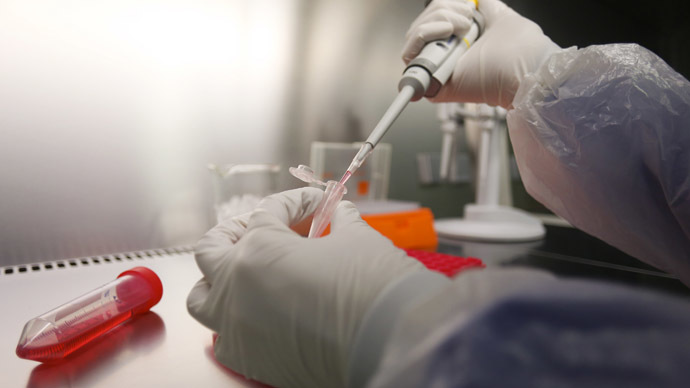 The US Food and Drug Administration has granted approval to Pluristem Therapeutics to mass produce therapeutic human-placenta-derived stem cell products within its commercial-scale manufacturing facility in Haifa, Israel.
Pluristem's Placental Expanded (PLX) products are mesenchymal-like adherent stromal cells – connective tissue cells in an organ – from human placentas, which are lush with hormones and proteins. The FDA has cleared PLX for use in studies on treating injuries, one step closer to full approval of PLX cells in treatments.
PLX products are made via Pluristem's "automated 3D cell expansion manufacturing platform that uses its patented high-throughput culturing technologies, 3D bioreactors, and downstream equipment."
"The PLX cells are grown using the company's proprietary 3D micro-environmental technology and are an 'off-the-shelf' product that requires no tissue matching prior to administration," according to Pluristem.
Pluristem operates out of a high-output facility in northern Israel that can produce about 150,000 doses of PLX products a year.
"We believe we have the largest, scalable, most efficient, most consistent and controlled process for manufacturing cell therapies," Zami Aberman, chairman and CEO of Pluristem, said in a statement. "Knowing that the 'Process is the Product' in cell therapy, we have established our leadership position in the industry by focusing on our 3D commercial scale cell manufacturing processes."
Pluristem's use of human placenta to boost cell repair involves "a drug delivery platform that releases a cocktail of therapeutic proteins in response to a host of local and systemic inflammatory and ischemic diseases."
Though animal placenta, especially from horses, has been a popular form of treatment for cell repair, human placenta offers a naturally compatible genome.
Pluristem's technology was cleared by the FDA to treat several conditions, The Times of Israel reported, including Buerger's disease and aplastic anemia – both of which have no other treatment options.
The FDA's move follows the January approval of the process from Germany's top medical treatment regulator, the Paul Ehrlich Institute.
The clearance also follows positive results of a PLX study in which two patients with muscular injuries were treated with Pluristem cells. Specifically, the test patients suffered gluteal muscle injury as a result of hip replacement surgery associated with osteoporosis.
The results were "a very important study not only for Pluristem but for the cell therapy industry in general," said Aberman. "Based on the results, we intend to move forward with implementing our strategy towards using PLX cells in orthopedic indications and muscle trauma."
About 332,000 hip replacements occur each year in the US alone, according to the Centers for Disease Control and Prevention.
You can share this story on social media: