Declassified FBI docs detail warrantless drone surveillance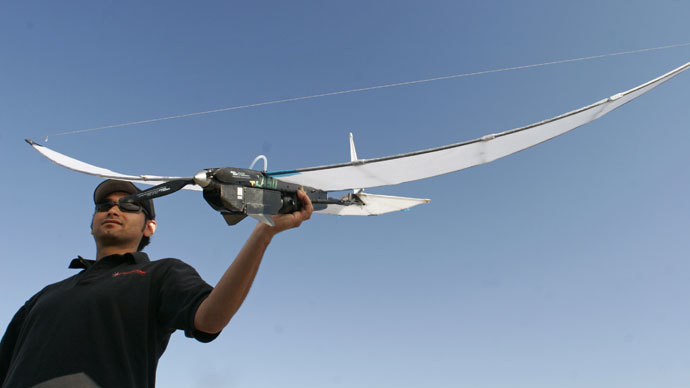 While previous reports have indicated that the FBI has sought to employ drone technology for years, newly unveiled documents from inside the agency show the extent to which the bureau believes it has the authority to conduct warrantless surveillance.
Growing skepticism over the US foreign drone program and how it may be used in connection with domestic security inspired Citizens for Ethics and Responsibility in Washington (CREW) to file suit against the FBI. CREW, using a Freedom of Information Act (FOIA) request, defeated the FBI in court and compelled law enforcement to turn over a database of documents on the growing drone program.
Among that stockpile released earlier this month was an extensive deck of slides titled "Legal Challenges to the Use of UAS (Unmanned Aerial Systems)." The slides provide a glimpse into the FBI's future drone plans, which the bureau clearly hopes will not be impacted by legal restrictions, and will provide instructions for agents who hope to use drones in the field now.
A Justice Department inspector general report published in September indicated that the FBI has been quietly spending millions of dollars to operate a small fleet of unmanned aerial devices in recent years. Then-FBI director Robert Mueller said in June that the bureau was in the "initial stages" of writing privacy policies for its still-developing surveillance policy. However, it was later revealed that the FBI has been using drones in a limited capacity since 2006 - years before experts had previously speculated.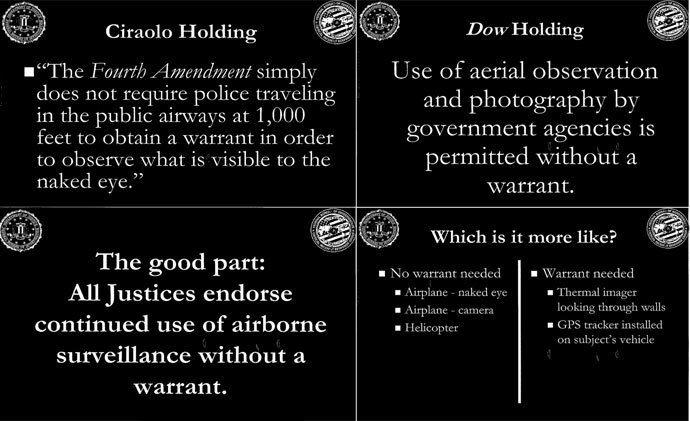 The presentation that surfaced this month opens with a reminder that the FBI operates with "rigorous obedience to the Constitution," especially the Fourth Amendment's prohibition of unreasonable search and seizure. Privacy advocates have argued that flying cameras through the air and sweeping up intelligence on unwitting subjects accused of no wrongdoing does constitute an unreasonable search.
The slides also mention the exclusionary rule, a legal principle that renders evidence collected in an unconstitutional manner inadmissible in a court of law.
"FBI counsel seemingly considers this requirement quaint and burdensome," wrote Vice contributor Shawn Musgrave. "One slide notes an Australian High Court judge's warning that the American high evidence standard puts it in danger 'of becoming something of a legal backwater.' It's not a great start to a defense of drones' 'rigorous' constitutionality."
The February 2012 presentation also reminds agents to consider when they are required to obtain a warrant, such as when using a "thermal imager looking through walls" or a "GPS tracker installed on subject's vehicle." But perhaps more importantly were the cases which do not require a warrant at all, including surveillance conducted with a "helicopter, airplane (naked eye), or airplane (camera)."