FBI discovers classified Pentagon files on computer of Petraeus' mistress
The focus of the investigation into retired Army Gen. David Petraeus' affair with his biographer Paula Broadwell is quickly dissolving away from a Beltway sex scandal as a probe begins to determine how his mistress obtained classified military files.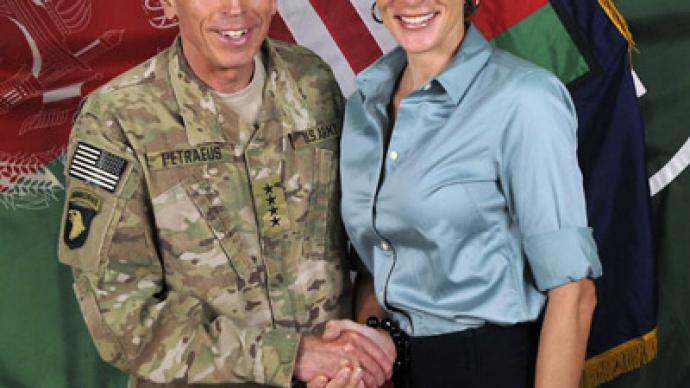 Investigators with the cybercrime unit of the Tampa, Florida FBI field office are now combing through personal computers of Broadwell in hopes of learning more about any sensitive Pentagon documents she had in her possession. Sources close to the matter believe that Broadwell's admitted affair with Gen. Petraeus, the impetus in his unexpected resignation from the Central Intelligence Agency, has nothing to do with classified documents found on her computer. When the FBI first became aware of their affair earlier this year, Broadwell voluntarily handed over personal computers to investigators weeks before the details of their illicit relationship became public. Officials speaking to the Wall Street Journal say that the initial discovery brought up "new concerns" over why and how she obtained those files, a fact that is only now being compounded after the FBI removed other materials from her North Carolina home Monday night.Both the general and his former mistress deny that Petraeus provided her with the documents in question, sources tell The Washington Post. As investigators attempt to get to the bottom of a scandal that seems to only broaden by the day, however, authorities are eager to identify what, if any, threat could be on hand."The issue of national security is still on the table," one US law enforcement official speaking on condition of anonymity tells the Washington Post this week.What exactly Broadwell may or may not know has become an issue in the days since her relationship with the general was exposed last week. As RT reported earlier, an address from Broadwell delivered just last month in Denver, Colorado alleged that the CIA detained Libyan insurgents at a prison cell in the US consulate building in Libya that was stormed during a terrorist attack on September 11 of this year. The CIA has since shot down those allegations and insist that no elusive prisons are being managed overseas. Gen. Petraeus is likely to be quizzed on the matter himself this week, though, after being called to testify before a Congressional hearing on the events of Sept. 11 scheduled to begin this Thursday despite having since resigned from his role."The CIA doesn't hold prisoners, they don't have any authority to hold prisoners. As far as I know they did not have any there," Republican Sen. Saxby Chambliss tells the Daily Beast this week. The lawmaker adds, however, that representatives on Capitol Hill have yet to receive the CIA's account of the terrorist attack.US President Barack Obama responded publically to the affair for the first time Wednesday afternoon, weighing in from the White House after being asked to assure the American people that the scandal has at any point threatened national security."Well, I have no evidence at this point, from what I've seen, that classified information was disclosed that in any way would have had a negative impact on our national security," the president told reporters.Responding to a separate question about his thoughts on the handling of the investigation, Pres. Obama said he is "withholding judgment with respect to how the entire process surrounding Gen. Petraeus came up.""We don't have all the information yet, but I want to say that I have a lot of confidence generally in the FBI and they have a difficult job. So I'm going to wait and see," he said. Before becoming the general's biographer, Broadwell held a position as a reserve Army major in military intelligence and was given high-security clearances. Investigators will also have to weigh if she violated that access by perhaps obtaining sensitive files after her clearance was expired. So far, however, the FBI has concluded that the initial computer handed over at the beginning of the investigation suggested that there was no breach at that time.
You can share this story on social media: