80-year-old man fatally shot by police acting on bad tip of meth lab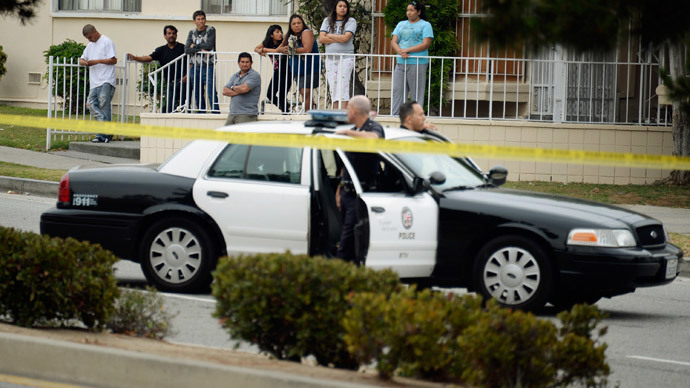 An 80-year-old California man was shot and killed by police who raided his home based on an incorrect, anonymous tip that the senior citizen was housing a methamphetamine lab on his residence, despite having no criminal record prior to the incident.
Eugene Mallory was a retired engineer living with his wife in Littlerock, California, a rural area on the outskirts of Los Angeles. LA Sherriff's deputies arrived on his property early on the morning of June 27, 2013, at which point Mallory's wife, Tonya Pate, and stepson Adrian Lamos made themselves visible to police.
The libertarian Reason.com news site reported that Detective Patick Hobbs, a self-described narcotics expert, spent four days monitoring the property before leading the warrant's execution. Hobbs later said he "smelled the strong odor of chemicals" downwind from Mallory's property.
The no-knock warrant that police were in possession of gave them the authority to enter the home without making their presence known beforehand – either by knocking on the door or announcing their presence vocally from outside.
It was then, police say, that 80-year-old Mallory stumbled down the cluttered hallway toward them while holding a handgun. Police later told investigators that they instructed Mallory to put down his gun and, when that request was ignored, one deputy had no choice but to open fire. Mallory was shot six times and was deceased within an hour.
Yet questions have been raised about exactly when the deputies warned Mallory to drop the gun. The LA County District Attorney's office announced in January that an unearthed audio recording of the incident appeared to contradict the officer's story, with deputies on the scene seeming to shout "Drop the gun!" after the six shots were fired.
Along with Detective Hobbs, Sergeant John Bones and Detective Robert Mittlburn entered the home. The DA's report determined that the pair had not encountered Mallory in the hallway, as initially reported, but rather while he was sitting or lying on a bed behind a semi-open door deep inside the home.
"Bones announced, 'Come on out here! Let me see your hands first please!' Bones' verbal tone is firm but does not sound agitated. Two seconds later, a Sheriff's Department deputy yells in an agitated and frightened tone, 'Whoa!' and gunshots are heard," the report states.
"Bones stated that once he and Mittlburn reached the doorway to the bedroom and realized there was a person lying on the bed, he directed the person to let them see his hands. Suddenly, Mallory stood up and raised his right hand in the direction of Sergeant Bones and Mittlburn. As he raised his right hand toward Bones and Mittlburn, Bones saw that Mallory was holding a handgun. Fearing for his life, and the life of Mittlburn, Bones discharged his service weapon at Mallory."
Sheriff's Department spokesman Steve Whitmore told KTLA-TV in Los Angeles that the incident is unfortunate, but finding two guns near Mallory's bed is all the evidence the police need to answer any questions.
"Age does not preclude somebody from being aggressive toward deputies," he said. "The lesson here is don't pull a gun on a deputy."
Mallory's widow, Tonya Pate, doesn't buy that explanation, and has filed a wrongful death lawsuit against the police department seeking more than $50 million. She said Mallory, who fostered a lifelong respect for law enforcement, was likely still in bed because he had difficulty hearing – a problem that was compounded by deteriorating vision.
"He would never point a gun at officers," she said. "Every day I stay in that house with that bloody bedroom...where I know he was taken from me for no reason."
The police have justified their search by reminding the public that they did find a small amount of marijuana on the property. The drugs were not included on the warrant and belong to Mallory's stepson Adrian, who holds a medical marijuana license.
David Cleveland, a member of the Littlerock town council, told Reason.com that events like this have contributed to an atmosphere of mistrust between the police and the small community.
"People have found again and again that agencies which are supposed to be serving the people are actually acting in ways that are oppressive to the people," he said.
You can share this story on social media: