Teenager jailed after cop fired gun inches from his face
Published time: 5 Sep, 2012 18:50
Edited time: 6 Sep, 2012 09:17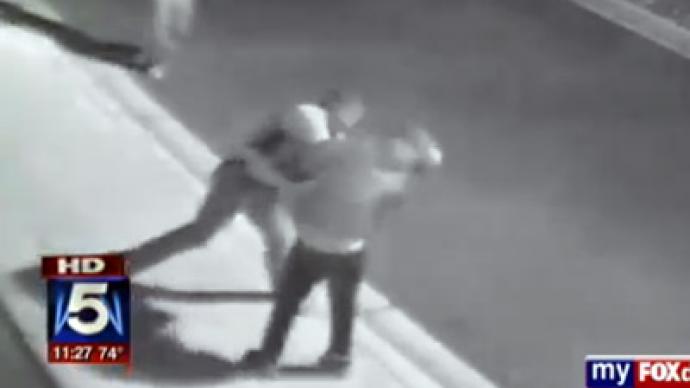 Ryan Dorm spent four months in jail after a police officer in Prince George's County, Maryland insisted that he was assaulted by the teen outside a gas station earlier this year. New video evidence suggests the cop's claim wasn't exactly accurate.
Surveillance camera footage from a service station outside of Washington, DC, has been uncovered, and the recording captured this past February 3 reveals a chain of events rather different from what Corporal Donald Taylor wrote in a police report earlier this year (link). At the time, Taylor told investigators that Dorm, then only 19, was resisting arrest and being aggressive and assaultive after he and his friend were approached by the officer. According to the footage though, that isn't quite the case.
Attorneys representing Dorm have filed a $10 million civil lawsuit against the department after new footage reveals Taylor dashing toward his suspect first, then blindsiding him with a strike to the head with the barrel of the officer's own handgun. At the height of the confrontation, Taylor's weapon is discharged and a shot is fired just inches away from Dorm's skull.
"I heard a shot and then felt a flash," Dorm tells Fox 5; he also says he initially thought the blast had killed him.
Taylor trumped up an assault charge against Dorm, a claim that put the suspect behind bars for the last four months. Now his attorneys are trying to clear their client's name, and in the process a full-fledged investigation has been launched to get to the bottom of the case against the corporal.
"What [the video] shows is that my client didn't lie. They print my client is a criminal. They put his face on television saying he committed these crimes, and he didn't," attorney Jimmy Bell tells NBC Washington.
"As you can see, I'm not resisting. I wasn't doing anything wrong," Dorm, now 20, tells a local Fox affiliate.
As the court considers who the real criminal is in the case, Officer Taylor was indicted last month and has been charged with second-degree assault, making false statements, reckless endangerment and official misconduct, the Associated Press reports. Lawyers for the officer did not return the AP's request for comments, and attorney Rober Bonsib tells My Fox DC that he is keeping his mouth closed except for in the courtroom, "the appropriate place to explain what's on the tape and what led up to it."