Is it the end of the world as we know it?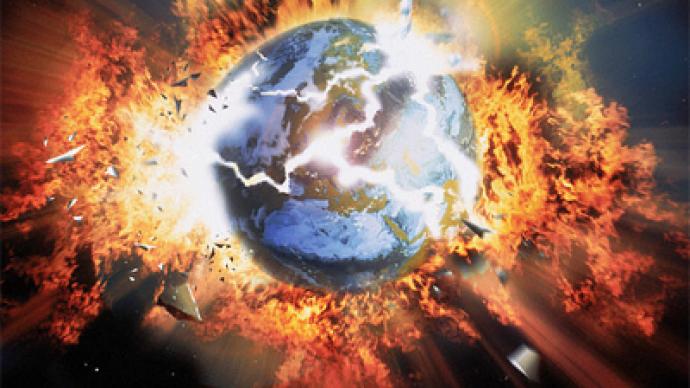 Have you heard the news? The world is ending on May 21, 2011. At least that's what Family Radio's founder Harold Camping has predicted.
Since then, Camping's prediction has made its way onto billboards, buses, t-shirts and everything in between; including caravans that roam the country preaching the apocalypse.Nine months ago, Jessica and Eddie Ramos quit their jobs, pulled their children out of school, took their savings out of the bank and hit the road to tell people just that. "What I did was shut the business down, I got the RV and tagged it up basically the same way Family Radio had theirs wrapped, and me and my wife agreed that this was the best way to do what we are supposed to do, according to what the Bible is telling us to do—to warn the people," Eddie Ramos said. Their three daughters travel with them."I homeschooled at one point, they were in school for a little bit, and now that's it's towards the end, we decided to keep them with us as much as possible. It also gives us more family time," said Jessica Ramos. The Ramoses are not alone—theirs is just one of four caravans roaming the country, preaching the apocalypse. They believe the world is ending May 21, 2011, and they say it's their duty to warn people. Harold Camping, the 89-year-old founder of Family Radio used a series of biblical calculations to arrive at May 21, 2011. "The Bible guarantees it. We have enough information now to show this is going to happen," said Gary Vollmer, another Family Radio "ambassador." Camping did predict the end of the world once before, in September 1994. But Camping's May 21, 2011 prediction has since been branded on buses, billboards, t-shirts and everything in between in an ad campaign that is estimated to have cost more than $100 million. "This is the greatest and biggest advertising campaign in the world. There has never been anything like this in the world, since God created this world. The Bible promised that all nations would get this message before May 21, 2011," said one of Camping's followers who was proselytizing outside Congress.Vollmer also put Camping's predictions on his SUV, which he drives every day to his job at the Department of Homeland Security. According to Camping, the day of destruction will begin with a giant rolling earthquake at the international dateline, and travel around the world, killing millions on May 21, 2011. The world will then endure five months of torment before finally coming to an end in October 2011. "But before that happens, all the true believers are going to be called up to be with Christ, and they won'texperience what's going to happen here for five months—death, sorrow, suffering and pain," said Damon Del Pilar, a Family Radio listener from Delaware. Meanwhile, atheists are already making plans of their own, some offering to buy Raptured people's possessions and care for the pets of those called up to heaven.
You can share this story on social media: