Detroit is 'insolvent,' according to emergency manager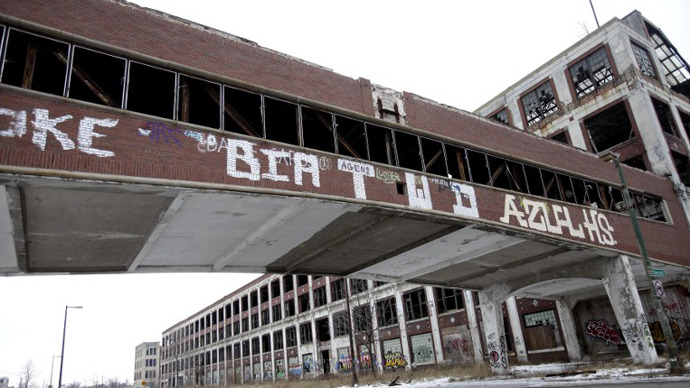 The city of Detroit, Michigan is days away from running out of money, and a state-appointed emergency manager says the situation is dire.
Kevyn Orr was hired by Michigan back in March to meet with leaders in Detroit to try and figure a way to save the once-thriving city from total bankruptcy. On Sunday he released the first report to show his findings over the past month and a half, and his assessment painted a picture of a city in far worse shape than many thought.
According to Orr's report, the one-time headquarters of the automobile industry is one month away from running out of cash yet owes billions.
"The City of Detroit continues to incur expenditures in excess of revenues despite cost reductions and proceeds from long-term debt issuances," Orr wrote. "In other words, Detroit spends more than it takes in - it is clearly insolvent on a cash flow basis."
"Without a significant restructuring of its debt, the city will be unable to break the cycle of damaging cutbacks in essential municipal services and investments," the study found.
Michigan Governor Rick Snyder said in March of Detroit that "There's probably no city that's more financially challenged in the entire United States." He declared a state of fiscal emergency at the time and told Detroit Mayor David Bing that he'd be appointing an emergency manager — Orr — to assist with operations.
Initially, the Detroit City Council rejected the governor's decision.
"We feel like we have the tools necessary to do it, that somebody else does not have to come in and do it for us," Council President Charles Pugh told the Associated Press at the time.
Ultimately, Snyder sent Orr to assess the situation, a decision Bing endorsed because, according to him, "we have to learn to make the best out of a bad situation." Now with the completion of Orr's first report, the details of that dilemma are being fully revealed.
Orr wrote that a number of issues are keeping Detroit from staying afloat much longer, including an ever-growing deficit, loads of liabilities and rampant mismanagement in terms of city services. At the end of fiscal year 2012, Detroit had "negative cash flows of $115.5 million" and things have only worsened. By the end of April the city was holding onto $64 million cash, but was obligated to the tune of roughly $226 million.
Orr found additionally that the city has liabilities including pension obligations, bonds and loans totaling $9.4 billion — including $5.7 billion in unfunded retiree benefit obligations — and expects the total deficit to top $380 million by June 30. At that point, the city will have to either defer pension payments and other obligations or pray for a miracle.
"If we don't change and restructure, we are going to run out of cash," Bill Nowling, a spokesman for Orr, told Bloomberg News. "That shouldn't come as a shock to anybody."
According to Nowling, all of the city's revenue couldn't pay off its debt in 20 years' time.
"This is exactly the situation the city is in, and our creditors need to know that," Nowling said. "Some do. A lot don't."
But as the city of Detroit is stuck figuring out who to pay and how exactly they'll do that, Orr wrote that other issues need to be examined in order to cut down on costs. He noted that recently he signed off on a contract with the Michigan Department of Corrections that will consolidate all Detroit Police Department pre-arraignment jail operations into one centralized jail, and that the regular closings of roughly a dozen fire stations in the city at any given time has saved costs — albeit at a price that could mean the difference between life and death.
Elsewhere, Orr said that the city's safety concerns are only made worse by blight, "one of the city's most pervasive and pressing problems" he calls both a public safety and a public health issue.
"In its 139 square miles, the city includes at least 60,000 parcels of vacant land (constituting approximately 15 percent of all parcels in the city) and approximately 78,000 vacant structures, of which 38,000 are estimated to be in potentially dangerous condition," Orr wrote.
"All city services are less efficient, and under-resourced, because these services must be provided over a large geographic area with low population density," he continued. Indeed, population has dropped by 60 percent since the 1950s, but meanwhile Orr said the city still provides services to a geographic area larger than Boston, Manhattan and San Francisco combined. "Falling levels of economy activity," he wrote, "also feed into a smaller ratepayer base to support city services, including water, sewer and electricity."
In a statement he issued with the release of his report, Orr wrote, "No one should underestimate the severity of the financial crisis," calling his assessment "a sobering wake-up call about the dire financial straits the city of Detroit faces."